Oppo has always made a strong fashion-statement through its phones, by making them appealing to the youth. Following the launch of exquisitely-designed Find X smartphone, the company wants to bring a new smartphone that's fashionable in every way yet light on the pocket.
Oppo F9 Pro is targeted towards mid-range shoppers who cannot afford the Find X and to make its new phone appealing, the company has partnered with ace fashion designer Manish Arora to bring a new shade that's never seen before in any smartphone. Oppo is picking up on the new trend of gradient colour (a big scoop from Huawei) for the F9 Pro by combining red and purple shades.
Take a look at the Oppo F9 Pro in a unique red and purple gradient colour below: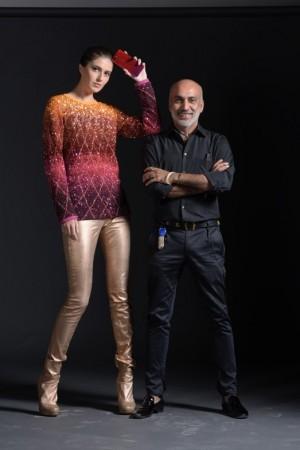 This new shade is designed by Manish Arora, who defined the F9 Pro as a "unique blend of vibrance and technology." In addition to the phone's new colour, Manish Arora is also designing an exclusive T-shirt inspired by the design and colours of Oppo F9 Pro, which can be seen on the model pictured above.
"With the growing interest of the youth in Fashion and Lifestyle space, we at OPPO are proud to have partnered with Manish Arora, the Colour Maestro of the fashion industry for an exclusive apparel inspired by the gradient colors of OPPO F9 Pro. We believe that our technological abilities and his stylish designs will be a great combination to create amazing offerings," Will Yang, Oppo India's brand director, said in a statement.
Oppo has been teasing the F9 Pro's launch in India for the last few days now. The F9 Pro's release date is still a mystery, but the phone is expected to be launched in the days to come. The company has confirmed that the upcoming handset will come with a new "waterdrop screen," which means a smaller notch on a full-screen display.
Rumours have been rife with details about the upcoming F9 pro, which suggest the smartphone to come with a MediaTek Helio P60, 6GB RAM and 128GB storage. The F9 Pro's official look shows horizontally-stacked dual cameras with LED flash, which is in line with earlier reports. But the specifications of the camera and other features such as the battery, display and its resolution, price and availability remain unknown at the moment.