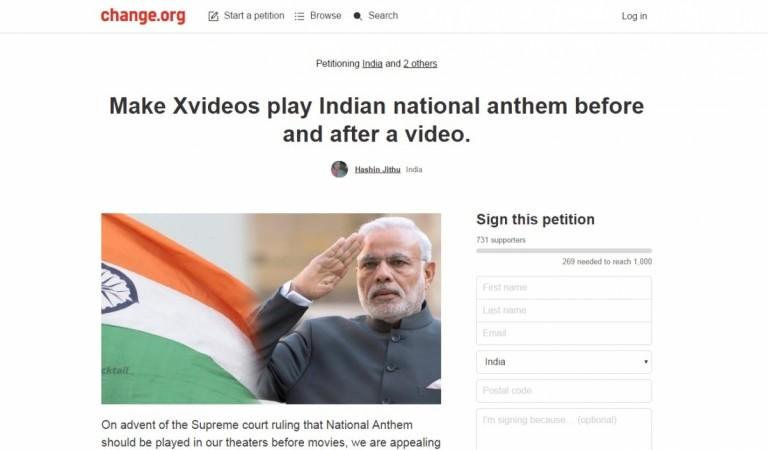 Barely a week after the Supreme Court made the national anthem mandatory before the exhibition of a film in cinema halls across the country, an online petition addressed to Prime Minister Narendra Modi has called for the national anthem to be played before and after videos at a pornographic website!
The petition, started by a Bengaluru resident named Hashin Jithu, already has hundreds of backers on the social activism platform Change.org. It urges Modi to "make it mandatory for Xvideos to play the national anthem before and after every video hosted in the website." Xvideos is a pornographic website that is among the top 100 most popular portals across all subjects and genres in the world.
The obviously sarcastic and satirical petition states: "It is well known that a huge number of Indian teens spend a lot of their time at Xvideos.com along with other sites during their formative years. Making them listen to the national anthem before watching a venereal video will instill a sense of pride and helps in tying reproductive urgency with patriotism. [sic]"
It adds: "This helps in indoctrinating a sense of primacy to patriotism and helps them create docile future citizens through responsible reproductive behaviors in favor of the nation tribe. Please sign and share this petition so that we have a great chance of reaching Narenda Modiji. [sic]"
Petition gaining momentum?
Interestingly, the petition has managed to garner hundreds of signatures of people backing it, with the number standing well above 700 at the time of the filing of this report. It now remains to be seen how it sits with the common man.
It may be noted that filmmaker Ram Gopal Verma has already raised his voice against the Supreme Court order making the national anthem mandatory in theatres, saying on social media: "Respect has to be felt and if it is enforced it will be faked which would be even more disrespectful to the #NationalAnthem. [sic]"
Even the Kannada film industry has expressed its reservations, with noted filmmaker KM Chaitanya telling International Business Times, India: "Cinema hall is not the best place to play the national anthem. People come to theatres for all sorts of entertainment. Anthem sets the mood of the viewers and it has to be played wisely."