OnePlus has become a household brand by selling millions of premium smartphones at competitive prices in the last few years. The Chinese tech company has made a name for itself not only in China and India but around the world and anything related to brand is received with great interest.
Besides being one of the most disruptive smartphone brands, OnePlus is synonymous with innovation and Dash Charge fast charging technology is one of the things consumers associate the brand with. But this very feature has presented with obstacles for OnePlus, albeit in Europe.
When OnePlus wanted to trademark the popular Dash Charge, EU rejected the application after it conflicted with Bragi's "The Dash" wireless earphones and Amazon's "Dash Replenishment." The company ended up removing all references to Dash Charge from its UK websites and used "Fast Charge" instead.
But MobielKopen spotted a trademark filing in the EU for "Warp Charge" with a specially designed logo featuring the same name by OnePlus. Could this be OnePlus' attempt to rebrand Dash Charge? We don't know for sure, but what we know is that the company could be working on wireless chargers.
The trademark listing, which can be found here, shows the list of goods and services that will potentially be sold under Warp Charge brand. They include data cables, power adapters, cell phone battery chargers, electrical adapters, batteries, electric, chargers for electric batteries, and – wait for it – wireless chargers.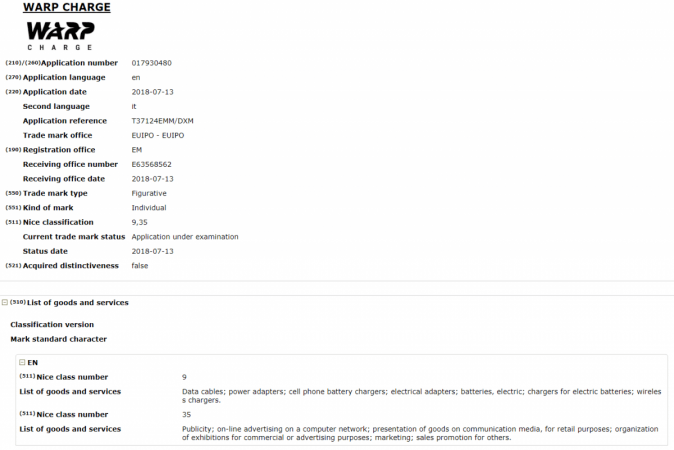 This is an exciting piece of information but doesn't necessarily mean we'll be seeing wireless charging onboard OnePlus 6T this year. The application for Warp Charge trademark is "under examination" by the authorities and OnePlus will possibly start using it after all legal formalities are concluded. It could be a while before we see Warp Charge branding on OnePlus websites, and even longer for wireless chargers to make a debut.
We are not denying the possibility of seeing wireless charging in OnePlus phones since rivals such as Samsung have already done it, but the company's CEO Pete Lau had a solid justification as to why it won't be possible anytime soon.
"An attractive promise of wireless charging is that you can just set your phone down on a surface and charge. Nice in theory, but not as simple in reality. You can't pick up your phone to game or take a photo while charging. Given present-day infrastructure, wireless charging brings more limitations than freedom. Wireless charging pads, cases, tables, and lamps – these all add up if you want to charge on the go or outfit your home for true convenience, creating constraints for the user," Lau had said last year.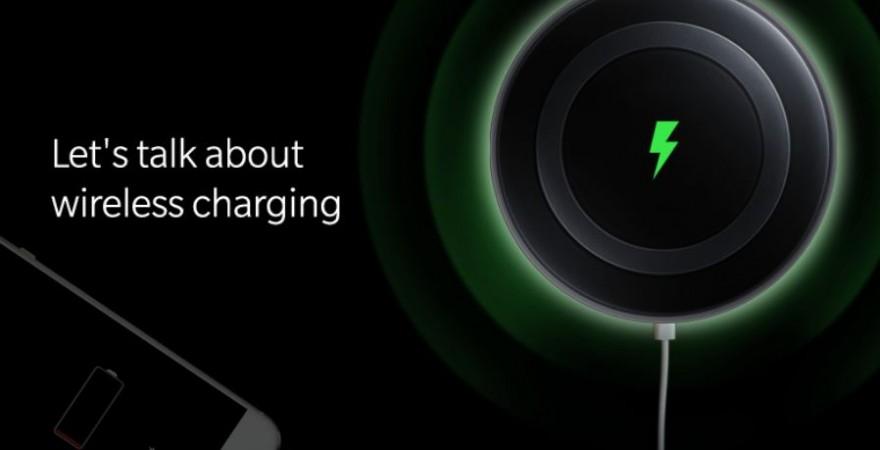 It makes perfect sense. Dash Charge fast charging is an absolute wonder, as we've mentioned in all of our OnePlus smartphone reviews, and choosing it over wireless charging, at least for the time being, is a wise decision.
But if OnePlus comes up with a new way to make wireless charging practical and useful, something on the lines of charging over the air, we can expect the company to rest from jumping on to the new technology just for the sake of it.
The next interesting aspect to look forward to is Dash Charge 2.0. And we say this because Oppo has already launched Super VOOC, which is the fastest charging technology (50W – 5V at 10A), and Dash Charge has some potential here.
Are you excited about OnePlus wireless chargers? Share your thoughts with us in the comments below or tag @ibtimes_india in your tweets.