OnePlus is where it is by not only delivering great value-for-month products, but also by listening to its fans and regularly staying connected with its users' community. The company is in the news for its upcoming flagship, OnePlus 6T's impending launch, but anticipating fans can take a break as OnePlus has shared something far more interesting and profiting.
OnePlus had been teasing something called "Crackables" on its social media channels, saying it was created together with its friends at Google. Well, the mystery kept many users busy with guesses, ranging from a new product OnePlus is launching in partnership with Google to a brand-new Bullets earphones. Some of them got it partially right when they said a game or a contest was in tow.
Pat your backs for that close call. But OnePlus doesn't want its fans to keep scratching their heads over the Crackables mystery for long so it finally revealed the details.
What is Crackables by OnePlus?
In simplest words, Crackables is a contest with exciting rewards. But that's not all.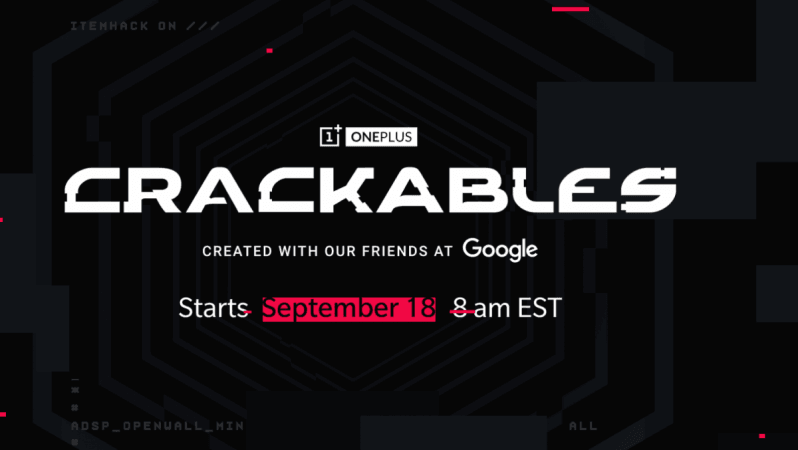 OnePlus revealed that Crackables is series of crypto-challenges for gamers around the world, which is designed keeping its tech-savvy users in mind. OnePlus and Google developed a series of Android-based crypto-puzzles, which is open to all.
The challenge includes various digital and physical puzzles to keep a track of participants' progress. But this is a time sensitive challenge as only the first 1,000 people to pass through the first 3 challenges will be qualified to continue further. Players will be guided through different contests as they unfold.
The 1,000 qualifiers will be sent a microcontroller, which will help them in future rounds - all the way to the grand finale. At the end of the contest, there will be one winner who will walk away with the grand prize of an ultimate gaming setup worth $30,000 (around Rs 21 lakh). The company also said that prizes can be won at different stages in the game and even those who come second and third will be rewarded handsomely.
That sounds pretty exciting right. But it is not just the rewards that will lure participants. The Crackables contest was built from the ground up and its participants are guaranteed to be hooked. The game was written by Sleep Deprivation Lab, the brainchild of Christian Cantamessa, an award-winning game designer and filmmaker famous for his work on Red Dead Redemption, Grand Theft Auto: San Andreas, Lara Croft's reboot Rise of the Tomb Raider and Manhunt franchise, along with Davidson Cole, who is known for his Shadowrun, F.E.A.R. and most recently Eclipse Phase.
OnePlus has collaborated with the best minds in the industry for its Crackables challenge, which proves that the company is surely taking this extremely seriously. Undoubtedly, Crackables is going to be an exciting way for OnePlus to connect with its core fans and reward them.
How to participate?
OnePlus will commence the global challenge on September 18, 5:30 pm IST onwards. Interested folks can experience the game on the dedicated webpage created for Crackables. But remember, this is a mobile-only experience, so keeping a separate tab open on your office PC isn't going to help much.