Live Updates
The event concludes.

OnePlus 6 starts at $529 (Rs 35,800 approx).
OnePlus 6 will be available starting May 22. Limited edition Silk White will be available on June 5.

"That's the OnePlus 6," Pei concluded and the crowd cheered.
There's an integrated Video Editor to make video editing simpler than ever.

OnePlus 6 slow-motion lets you choose the part of a clip that needs to be in slow-mo.
OnePlus 6 Portrait Mode is faster than ever before and comes with new effects to make your portraits looks better. The new Portrait Mode Effects are coming to selfie camera soon.
Pei boasts of OnePlus 6 low-light capabilities.
OnePlus 6 has a dual rear camera setup with 20MP+16MP Sony IMX519/376K, OIS + EIS.
OnePlus 6 comes with improved gaming mode, prioritizing game-related data and power.
For most users, OnePlus 6 comes with OxygenOS 5.1 based on Android 8.1 Oreo.
OnePlus 6 gets Android P developer preview.
OnePlus 6 comes with Dash Charge fast charging solution, Face Unlock in 0.4 seconds.
OnePlus 6 comes with Snapdragon 845 chipset, 6GB/8GB RAM, 64GB/128GB/256GB storage options.
OnePlus 6 comes in three colors, Mirror Black, Midnight Black and Silk White. Except for the Mirror Black, both models have matte finish, a unique approach while using glass design.
OnePlus 6 has smooth corners, glass build, dual cameras at the back along with a fingerprint scanner. There's a Corning Gorilla Glass for strength.
OnePlus 6 launched with full screen display, glass back, notch design, and a 3.5mm headphone jack.
OnePlus Bullets Wireless launched
OnePlus Bullets Wireless are priced at $69. Available starting June 5.
OnePlus Bullets Wireless feature Energy Tube for a clearer reproduction of sound.
OnePlus Bullets Wireless come with fast charging. Charge them for 10 mins to get 5 hours of listening time. The earphones have a USB Type-C charging port.
OnePlus Bullets Wireless are magnetic. Separate them to turn on, and pair them to turn off.
OnePlus Bullets Wireless are enabled with Google Assistant.
Pei unveils the company's first-ever wireless earphones called Bullets Wireless.
While Pei takes a walk down the memory lane, any guesses on what the second OnePlus product is going to be? We already know that OnePlus 6 is one of the two.
"OnePlus means a good product shared among friends," Pei says.
Pei recalls the success of OnePlus 5 and OnePlus 5T smartphones globally and in India, where the former became the best premium smartphone on Amazon India within the first month.
Pei confirms OnePlus is launching two new products.
OnePlus co-founder Carl Pei takes the stage to begin the event.
OnePlus commences the event showing the ad it has been teasing in the last few days.
The launch event will commence shortly.
OnePlus live-stream has begun. It's showing a flashback of how the OnePlus journey unfolded since 2014.
The long wait finally comes to an end. OnePlus 6, which has been making everyone curious, is finally going to be unveiled event in London in a few minutes. Before the grand event kicks off and the company's CEO Pete Lau and his team take over the limelight, here's a quick run through of everything we know about the phone so far.
While most of the details about OnePlus 6 have already been leaked, some of it was shared by the company itself. Now, though there's little mystery left to be revealed, it is going to be an interesting launch event nevertheless.
After the London unveiling on Wednesday, International Business Times, India, will be attending the India launch on Thursday, May 17, for a hands-on experience of the Android flagship.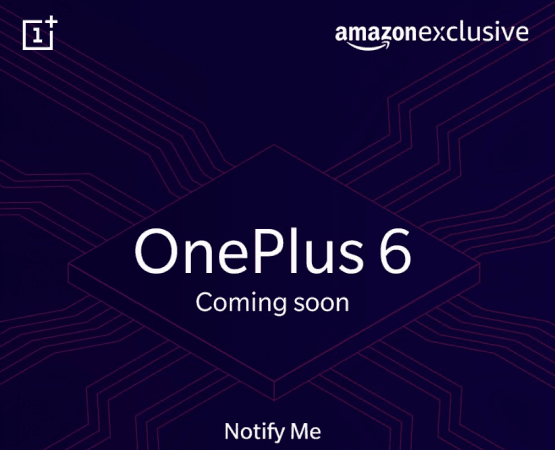 Our first impressions review of the OnePlus 6 will go live shortly after the handset is available for demo in Mumbai. Stay tuned for the quick review. But for now, let's get that excitement going for the global unveiling of one of the most eligible flagship smartphones of 2018.
OnePlus 6 – Everything we know
OnePlus 6 is naturally going to pack several upgrades compared to its predecessors. By the looks of it, it is going to be the best OnePlus smartphone so far, and the most expensive one yet as well.
Rumors indicate there will be three variants of OnePlus 6, starting at Rs 36,999 for 6GB RAM + 64GB ROM, and then Rs 39,999 for 8GB RAM + 128GB ROM along with a high-end model with 8GB RAM + 256GB ROM for Rs 42,999.

So the question is, will the price tag be justified? Let's take a look at what the device has to offer.
Display: 6.2-inch full HD+ (2160x1080p) screen with 19:9 aspect ratio

Design: Glass back (possibly with wireless charging support), water-resistant

Rear camera: Dual camera with 16MP+20MP sensors (f/1.7 aperture

Front camera: 20MP sensor (also enables Face Unlock)

CPU: Qualcomm Snapdragon 845

RAM: 6GB/8GB

ROM: 64GB/128GB/256GB

Battery: 3,450mAh with Dash Charge 2.0

Add-ons: Fingerprint scanner (rear), 4G VoLTE, Dual SIM card support, Android 8.1 Oreo and more
In India, OnePlus 6 is going to be available exclusively on Amazon India. Marvel fans are in for a treat as the company plans to unveil a special OnePlus 6 Marvel Avengers limited edition for India. Even though there are doubts about certain features, it will all be cleared when the official debut happens.
Note: This is a live coverage article, and the latest updates will appear at the top of the page. This webpage refreshes automatically.