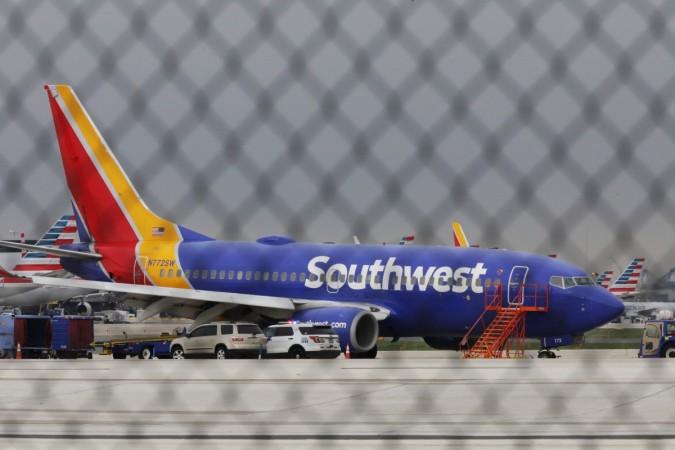 One passenger died after a Southwest Airlines flight suffered a serious engine blowout en route to Dallas from New York's La Guardia airport, reports said. The Boeing 737-700 was forced to make an emergency landing in Philadelphia following the major engine failure. Seven passengers were reportedly injured in the accident.
The explosion happened when the Southwest Flight 1380 was flying at about 30,000 feet. The flight's left engine exploded with such force that it pierced the fuselage (main body of the aircraft) with a shrapnel and led to breaking a window in the passenger cabin.
The deceased female passenger has been identified as Jennifer Riordan, 43, mother of two. She was the vice president of community relations at Wells Fargo in Albuquerque.
Following the mishap, Southwest Airlines issued a statement, saying: "We are aware that Southwest flight #1380 from New York La Guardia (LGA) to Dallas Love Field (DAL) has diverted to Philadelphia International Airport (PHL). We are in the process of transporting Customers and Crew into the terminal. The aircraft, a Boeing 737-700, has 143 Customers and five Crewmembers onboard. We are in the process of gathering more information. Safety is always our top priority at Southwest Airlines, and we are working diligently to support our Customers and Crews at this time."
While describing the incident, one passenger named Marty Martinez told CBSN, "There was blood everywhere. Everybody was crying and upset. You had a few passengers that were very strong and they kept yelling to people, you know, 'It's OK, we're going to do this.'"
Martinez also had the access to WiFi. Hence he started doing a Facebook Live and also posted a couple of pictures of the flight's condition.
"It was the most terrifying experience," Martinez told CBSN. "I mean, to think that as I'm going down and people are jumping in my live feed and I'm like 'the plane's going down' and I'm just thinking that at any moment now my internet could cut out and that would be that's it."
Another passenger Amanda Bourman told CBSN, "I just remember holding my husband's hand, and we just prayed and prayed and prayed. And the thoughts that were going through my head, of course, were about my daughters, just wanting to see them again and give them a big hug so they wouldn't grow up without parents."
Another passenger by the name of Matt Tranchin said that people were out to help each other. "Everyone kind of descended on where this hole was," he told WPVI. He couldn't think of anything but his family at that time.
"That I'll never live to see my son born. That I'll never be able to say goodbye to my wife, say goodbye to my parents. But I am. I feel really very fortunate for that," his thoughts were at the moment.
Some other flight passengers also took to social media to share footage and details about the incident.
Southwest CEO Cary C. Kelly reportedly said that the airline will soon start a thorough inspection.