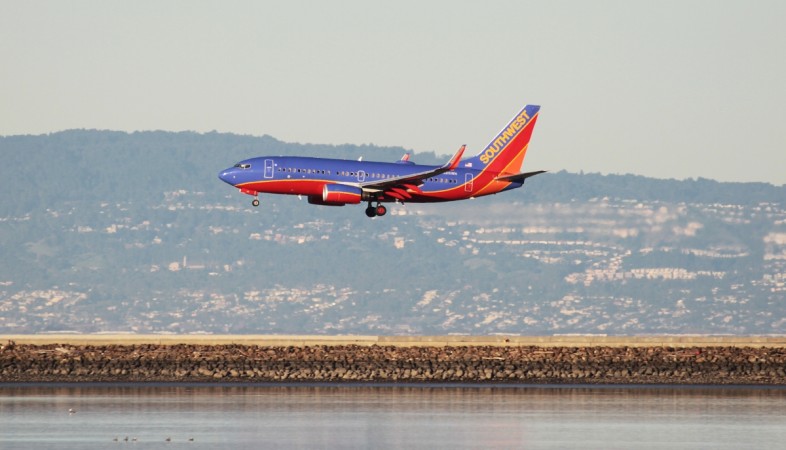 Dogs are known for being a man's best friend but one little girl may question that forever. The girl, who approached a dog during boarding for a Southwest Airlines flight, was injured by the canine, who happened to be an emotional support dog.
The incident took place on Wednesday, February 21, while passengers were boarding a Southwest flight from Phoenix to Portland, Oregon. Passenger Todd Rice tweeted that a dog had bitten a girl as she approached it and that the girl was screaming and crying, according to the Associated Press. The tweet has since been deleted.
The Southwest Airlines responded to Rice's tweet by commenting that the authorities are addressing the situation and assured that the passengers' safety is their top priority.
A Southwest spokesman said the dog's teeth "scraped a child's forehead" after which the medical team arrived to check her.
The dog was seated in the plane's first row of seats with its owner, according to Southwest spokeswoman Melissa Ford. She also said the dog's owner warned the girl not to approach his dog.
The paramedics examined the girl and she was allowed to continue her journey. The police interviewed both the girl's family and the dog's owner. Ford said the girl and her family remained on the plane, which took off 20 minutes behind the scheduled time and the dog and its owner took a later flight.
This incident comes as airlines now consider restricting passengers flying with emotional support animals. Support animals require no training, unlike service animals such as guide dogs. However, passengers need to provide a medical professional's note explaining why they need the animal to travel with them.
Southwest allows trained emotional support animals to travel on domestic and international flights, but as per the regulations their owners must provide authorities with the health certificates, permits and vaccination records required by the "country, state or territory from and/or to which the animal is being transported."
Ford said Southwest Airlines had started reviewing its policy even before Wednesday's incident. Delta Air Lines said in January that in order to carry animals on a flight, proof of health or vaccinations and signed paperwork confirming that the animals are not a threat to the other passengers should be produced. On Thursday, February 22, Delta relaxed the provision of service dogs after they faced opposition from advocacy groups for the disabled.
Delta said it carries nearly 250,000 service or support animals on a yearly basis. In June 2017 a 70-pound (32-kilogram) dog flying on Delta as a support animal injured a passenger in the face so severely that he had to be taken to the hospital.
"The rise in serious incidents involving animals in flight leads us to believe that the lack of regulation in both health and training screening for these animals is creating unsafe conditions across US air travel," John Laughter, Delta's senior vice president, said in a statement.
United Airlines, too, announced similar changes earlier in February. Passengers flying with comfort animals are on the rise. United spokesman Charlie Hobart told USA Today that around 76,000 people flew with animals last year, nearly double the number in 2016.
The rules for support animals will not be applied to small pets who can fit in carriers under airplane seats, for which airlines charge up to $125 each way. There is no charge for service or support animals.
Federal guidelines state that airlines must allow passengers with disabilities to carry support animals, "regardless of the animal's potential to offend or annoy others on the plane," according to the Washington Post.
Unusual service animals like snakes and other reptiles, ferrets, rodents and spiders are denied entry as they pose a threat to the safety of other passengers.
A peacock named Dexter was denied entry in United a few weeks ago because it did not meet the weight and size requirements. Shortly before this incident, a student was told she could not take her pet hamster Pebbles, who she said was her emotiobnal support animal, on a plane. She chose to flush it down a toilet.