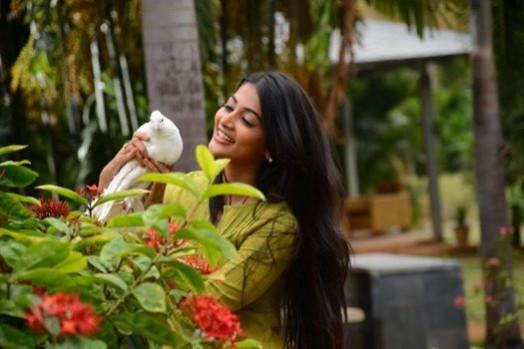 Pooja Hegde is girl from a Tulu family in Udipi, Karnataka, but she was born and brought up in Mumbai, Maharastra. Besides Tulu, she also speaks English, Kannada and Hindi fluently. Having been crowned as the second runner-up at the Miss Universe India in 2010, she went to make her acting debut with Tamil movie, "Mugamoodi".
The Miss Universe India 2010 runner-up has made her debut in Tollywood through Naga Chaitanya's latest outing "Oka Laila Kosam", which released in the theatres across the globe on 17 October. The model-turned-actress is successful in impressing the film-goers. She has recieved positive reviews from the film critics for her wonderful performance. Critics describe her chemistry with Naga a visual treat. Continue to read what different critics have to say about her looks and performance.
"Pooja Hegde is quite a revelation in her role as a daddy's little girl and she expresses the confusion between abiding by her father's decisions about her life and her hatred for Karthik quite well," according to The Times of India.
"Pooja Hegde looks very beautiful and charming. Her expressions are good. She will be a big star in the days to come," reported IdleBrain.
"Pooja Hegde is definitely the find of the year, and has an amazing screen presence. She has handled a complex role well and is definitely a star in the making," according to 123Telugu.
"Pooja Hedge is a demonstrative beauty with artistic facial features. She looked gorgeous in many scenes with eloquent portrayal of emotions," said a CineJosh report.
"Pooja Hegde made an impressive debut with this film and she excelled in a limited role given to her," according to TollywoodAndhra.
"Heroine Nandu Hegde seemed too traditional. Her role is quite important one in the movie. She couldn't justify crux situation acting and may not impress audience," reviewed Telugu Mirchi.
"Pooja Hegde has an amazing screen presence and she is a surprise for the film as she dominates the things with her acting. The assigned role has been complex, but Pooja has managed to do it well in a challenging way," according to Andhrawishesh.
"Pooja Hegde is good in few frames and average in few angles. Her performance is fine for a debutante," according to Gulte.
"Pooja Hedge is a good find. She looks pretty and her smile is refreshing. Unlike the usual Telugu heroines, she does not bore you by going overboard. No wonder she is already cast opposite Hrithik in Mohenjadaro," according to GreatAndhra.
"Pooja Hegde is a good find for Tollywood. She did her role as an experienced artiste. If she can properly select appropriate scripts, she is surely going to stay in Tollywood in coming years. Though she looked little elderly to Chaitu, it can be overlooked in the flow of the movie," according to 24Crafts.
However, Pooja Hegde is thrilled over the overwhelming response for her performance in Oka Laila Kosam. She has all thanks for the makers of the film. On 17 October, the actress took to her Twitter page and thanked producer Nagarjuna, director Vijay Kumar Konda, hero Naga Chaitanya and other members of the film unit.