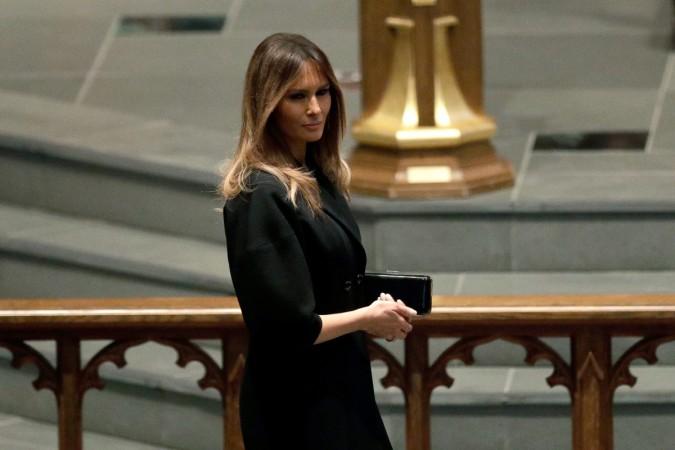 It was a memorable weekend in politics as the Bush family, the Clintons, Obamas, and Melania Trump came together to attend the funeral of the late Barbara Bush, who passed away last week at the age of 92. The FLOTUS came sans her husband, US President Donald Trump and boy, she looked so happy.
Unlike the recent pictures taken of Melania where she appeared to be smiling for the cameras, the photographs from the weekend showed the first lady smiling like she was genuinely happy. And guess who was making her smile: Barack Obama.
Melania was seated with the former POTUS and she seems to be having a good time. A particular moment saw Melania laughing at something Barack said and the moment was captured on camera. The photo did not take too long to catch Twitter's attention.
Fans of the Obamas raved about how the former President did not hold any bitterness against Melania while several others took a hilarious dig at Trump.
In fairness to Donald Trump -
Of course Melania looks happy sitting next to President Obama. He's handsome, intelligent, charming... And he doesn't reek of flop sweat. pic.twitter.com/n613EnmNrt

— Ken Olin (@kenolin1) April 22, 2018
Donald Trump's day so far:

- No tweets yet
- Maybe "Wendy" got to him
- Mueller sealed indictments
- Melania likes Obama better
- Trump afraid of Roger Stone
- Trump afraid of Michael Cohen
- They'll all flip on him
- Trump is burnt toast
- It's still only 7am

— Palmer Report (@PalmerReport) April 22, 2018
Obama: What are you smiling about?

Melania: I'm thinking about Donald's funeral pic.twitter.com/SizRAyFnR6

— Issy (@issyelliot) April 22, 2018
Melania, usually stone-faced, is seen smiling for the first time in a while next to Barack Obama.

Donald is not going to like this picture. RT! #BarbaraBushFuneral pic.twitter.com/4XDbLhr2uO

— Nathan H. Rubin (@NathanHRubin) April 21, 2018
At the funeral for Barbara Bush today, Melania Trump sat next to guess who...
Barack Obama!

After over a year in office, Melania has not smiled once in the presence of Donald Trump.

10 minutes with Obama's, and look what happened!

Don't retweet to @realDonaldTrump pic.twitter.com/V4RbD85FUy

— Ed Krassenstein ? (@EdKrassen) April 21, 2018
Melania looks happier at a funeral with BARRACK OBAMA than I have EVER seen her with Donald Trump. She is like the rest of us, can't stand that moron Trump!! pic.twitter.com/AB8T9LkdiD

— TrumpsSpursHurt (@USMCSMM) April 21, 2018
Do NOT tweet this photo to @realDonaldTrump. He'll hate knowing that the first time Melania cracked a smile in years was during a quiet chat with Obama. pic.twitter.com/V66OC2W8aZ

— richieny70 (@richieny70) April 22, 2018
add "make Melania smile" to the long list of things Obama can do that Trump can't

— Jeff Tiedrich (@jefftiedrich) April 21, 2018
Melania: you're one of the five people I follow on twitter

Obama: you know that upsets him

Melania: LOL yeah pic.twitter.com/I1VclKJESs

— laney (@misslaneym) April 21, 2018
1. Melania Trump never looked so damn Happy before in her life.
2. President Obama is just a damn LEO, he talks to everyone.
3. Michelle Obama will not be switching seats this time to shut him up,
4. Bill Clinton is like I don't see her
5. Hillary Clinton is like WHY IS SHE HERE pic.twitter.com/VBCqWSyJ9m

— Mr. Weeks ✊? (@MrDane1982) April 21, 2018
Another moment from the funeral that went viral was when a photographer brought together the Barack Obama and Michelle Obama, Bill Clinton and Hillary Clinton, George W. Bush and Laura Bush, and George H.W. Bush for an extraordinary picture. In the photo, Melania was seen standing beside Michelle. Twitter went bonkers after the picture hit the internet.
A rare gathering — The 41st, 42nd, 43rd and 44th Presidents of the United States, their spouses, and current First Lady Melania Trump photographed together at the funeral of former First Lady Barbara Bush in Texas on Saturday. (Photo via George H. W. Bush Office) pic.twitter.com/dUzRatQLCK

— Steve Kopack (@SteveKopack) April 22, 2018
A rare gathering — The 41st, 42nd, 43rd and 44th Presidents of the United States, their spouses, and current First Lady Melania Trump photographed together at the funeral of former First Lady Barbara Bush in Texas on Saturday. (Photo via George H. W. Bush Office) pic.twitter.com/dUzRatQLCK

— Steve Kopack (@SteveKopack) April 22, 2018
There's a lot going on. Michelle standing with Melania, George W. putting his arm around Hillary, Bill and Barack choosing to stay in the background. ?

— Max Kennerly (@MaxKennerly) April 22, 2018
A picture of people who know how the presidency works and they ALL hate Donald Trump.

— Sandi L. ? (@DemSandiL) April 22, 2018