Barbara Pierce Bush, who was the second woman after Abigail Adams to be both a US president's wife and mother, died at the age of 92 Tuesday, the Bush family said in a statement.
Bush, who was one of the popular first ladies in the US history, was the wife of George HW Bush, the 41st president, and the mother of George W Bush, the 43rd president.
George HW Bush was at her side when she breathed last. "He held her hand all day today and was at her side" his chief of staff Jean Becker said in a statement.
"Barbara Bush was a fabulous First Lady and a woman unlike any other who brought levity, love and literacy to millions," George W. Bush said in a statement. "To us, she was so much more. Mom kept us on our toes and kept us laughing until the end."
On Sunday, the Bush family said that Barbara had decided to focus on comfort care after a series of hospitalizations. She decided not to seek further medical treatment and instead would focus on comfort care, the official statement from her husband's office stated.
Bush, who was called "The Silver Fox" by her husband and children, was the first lady when George HW Bush became the president and was in the White House from 1989 to 1993. She also stood by her son George W Bush's side in the 2000 US election.
Before Bush, it was Abigail Adams, who was the wife and mother of US presidents. Her husband John Adams was the nation's second president (1797 to 1801) and her son John Quincy Adams became president in 1824.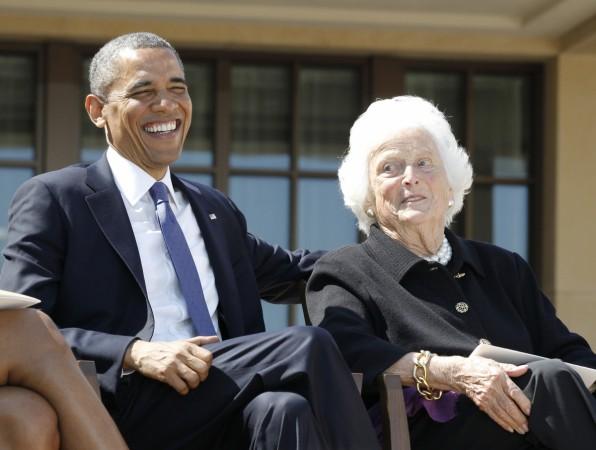 Tributes poured in on social media remembering the former first lady. From former president Bill Clinton to president Donald Trump, the political leaders mourned her demise.
President Trump and first lady Melania Trump said in a statement: "As a wife, mother, grandmother, military spouse, and former First Lady, Mrs. Bush was an advocate of the American family. Amongst her greatest achievements was recognizing the importance of literacy as a fundamental family value that requires nurturing and protection."
Former president Barack Obama and former first lady Michelle in a statement said: "We'll always be grateful to Mrs. Bush for the generosity she showed to us throughout our time in the White House. But we're even more grateful for the way she lived her life – as a testament to the fact that public service is an important and noble calling; as an example of the humility and decency that reflects the very best of the American spirit."
Bill Clinton called her "fierce and feisty" and tweeted: "Barbara Bush was a remarkable woman. She had grit & grace, brains & beauty. She was fierce & feisty in support of her family & friends, her country & her causes. She showed us what an honest, vibrant, full life looks like. Hillary and I mourn her passing and bless her memory."
Former president Jimmy Carter and his wife Rosalynn Carter mourned her death and said: "Rosalynn and I are saddened by the death of Barbara Bush. She touched the hearts of millions with her warmth, generosity, and keen wit. The matriarch of a family dedicated to serving, she urged volunteerism as a way for all citizens to participate in our nation's progress. Through her own work to promote literacy as a value in every American home, countless families now have the knowledge and skills they need to thrive in all aspects of their lives. She will be missed."