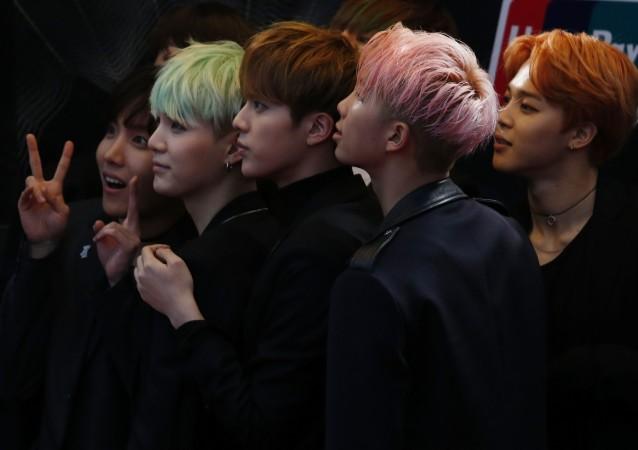 The fanbase of K-pop across is expanding across the globe, and South Korean first lady Kim Jung-sook is cashing in on its popularity to promote Korean pop culture in the United Arab Emirates (UAE). She gave away CDs of famed boy band BTS (Beyond The Scene), also known as the Bangtan Boys, to students in the Middle Eastern country Sunday.
Kim Jung-sook is accompanying her husband and president of South Korea Moon Jae-in, who is on an official visit to the UAE. During the visit, she interacted with the students from King Sejong Institute Sunday, according to The Korea Times.
The report said that the students, who are studying Korean language at the King Sejong Institute, told the first lady that "girls in the country are highly interested in Korean culture, food and K-pop". So, Kim gave them CDs of BTS autographed by the group members, as if she had anticipated them to have a liking for Korean pop culture.
It may be mentioned that the South Korean boy band is gaining popularity outside its home turf, especially in the US. It beat the likes of Taylor Swift, Lorde, The Vamps, Black Coffee, Maluma, and Zara Larsson to win the Favorite Global Music Star award at the 2018 Kid's Choice Awards ceremony held Saturday, March 24, in California.
The band also won Best Boy Band and Best Fan Army awards at the 2018 iHeartRadio Music Awards in the US and was honored with the musician of the year award at the Korean Music Awards 2018.
The popular K-pop boy band comprising of J-Hope, Jimin, V, Suga, Jin, Jungkook, and RM toured 12 countries, including the United States, Brazil, Australia and Japan last year.