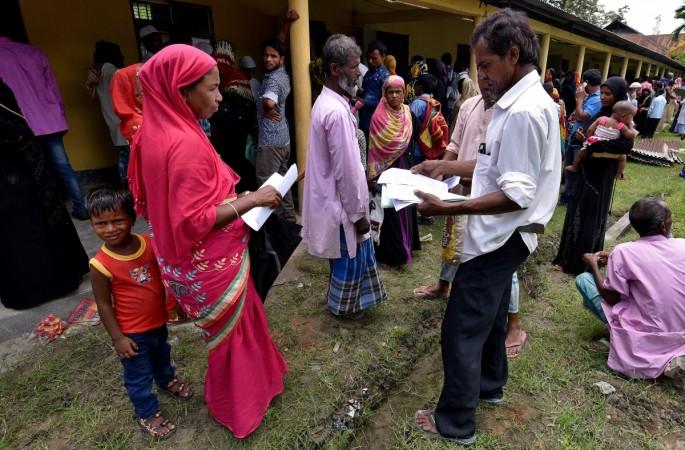 Bharatiya Janata Party's national vice-president Om Mathur said on Sunday, August 12, that the National Register of Citizens (NRC) would be implemented across the country after the 2019 general election.
While addressing the media in Rajasthan's Jhunjhunu district, Mathur also stated that the government will not allow the country to turn into a 'dharamshala'. He said that the entire country was suffering from the issue of Bangladeshi infiltrators and there was not a single city or town which is untouched by the problem of Bangladeshi infiltrators, reports Press Trust of India.
"The country will not be allowed to become a dharamshala and NRC will be implemented across the country after 2019," Mathur was quoted as saying by PTI.
The NRC was an initiative taken by Prime Ministers of India, Indira Gandhi and Rajiv Gandhi. Targetting Congress President Rahul Gandhi, Mathur said that he was not loyal to his family since the UPA government could not muster the courage to implement NRC during the 10 years that they were in power.
Mathur added that NRC was not an initiative of the BJP and it is on the directives of the Supreme Court that the party has implemented it in Assam.
Mathur also affirmed that the BJP will go ahead to win the 2019 general elections and after forming the government, NRC would be implemented across the country.
Prime Minister Narendra Modi, in a recent interview to ANI, had assured that "no citizen of India will have to leave the country," when asked about the ongoing exercise to finalise the National Register of Citizens in Assam. Modi also asserted that NRC is a "promise of ours" and it was his government's duty to honour "the mandate" they have been given.
"I want to assure the people that no citizen of India will have to leave the country. As per the due process, all possible opportunities will be given to get their concerns addressed. The NRC was a promise of ours, which we are fulfilling under the guidance of the Supreme Court. It is not about politics but about people. If someone is making it about rajneeti (politics), it is extremely unfortunate. Our job in the political class is to work according to the will of the people and do what they have given us the mandate for," the Prime Minister had said during the exclusive interview to ANI.
In a recent interview given to Times of India, the Prime Minister had asserted that his party would win the next general elections with a big margin than in 2014 and had dismissed "Mahagathbandhan" as a failed idea. He said that a coalition government will never succeed since people wanted a strong and decisive government at the centre.