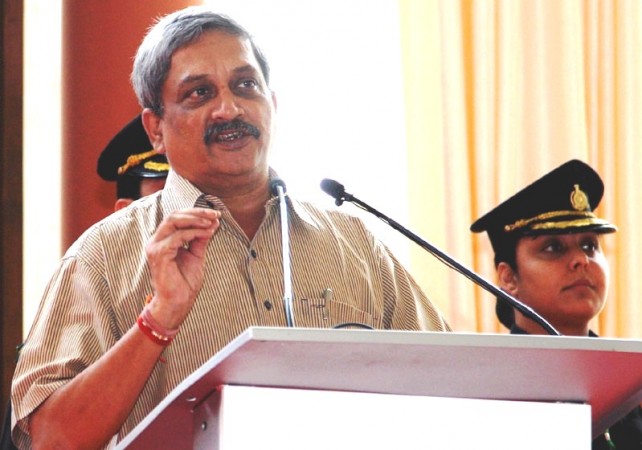 In a statement that is sure to raise the hackles of the Opposition parties, Defence Minister Manohar Parrikar on Monday gave the Rashtriya Swayamsevak Sangh — the parent organisation of the BJP — credit for the surgical strike along the Line of Control that led to the destruction of several terror launch pads in Pakistan-occupied Kashmir, and the death of 38 terrorists.
Parrikar had recently credited the political will of the "daring" government led by Prime Minister Narendra Modi for the success of the attack, even as he hit back at Congress vice-president Rahul Gandhi, who had alleged that Modi was trying to reap electoral dividends from the surgical strike.
Parrikar, a former chief minister of Goa, while speaking at a Know Your Army engagement at the Nirma University in Ahmedabad, said: "I wonder that a Prime Minister from land of Mahatma Gandhi and a defence minister from Goa and surgical strikes, the situation was quite... maybe the RSS teachings was there, but this was very different kind of combination."
Talking of the immediate aftermath of the Uri terror attack, he said: "After 18 soldiers were martyred in Uri we had to face a lot of difficult situations. Till the September 29 [when the surgical strike took place, the prime minister was targeted on social media and in other media. Some share of the criticism was also directed towards me."
He had earlier said about the surgical strike: "We showed political maturity. The daring Modi government showed it. If the surgical strike was a failure, the Opposition would have not spared us. There is no need of certificate by political leaders over bravery of the defence personnel."
The second part of his statement was directed at political leaders, including Aam Aadmi Party leader and Delhi Chief Minister Arvind Kejriwal, who had in some form or the other asked for proof of the surgical strike. Kejriwal had ended up being the toast of Pakistan for asking the question.