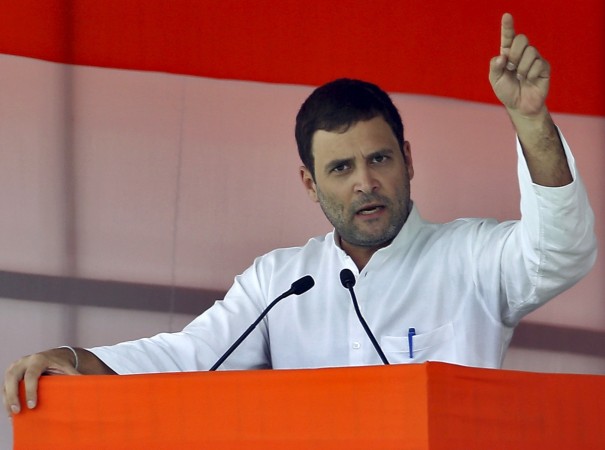 Following the media flaying some members of the Opposition over their comments questioning the surgical strikes, internet and late night television news erupted with the news of Congress vice-president Rahul Gandhi on Thursday accusing Prime Minister Narendra Modi of indulging in political exploitation over the sacrifices of soldiers.
While the comments drew the ire of the ruling party, his words assume significance in the wake of the cross-LoC surgical strikes by the Indian Army on terror launchpads in Pakistan-occupied Kashmir (PoK).
"Jo hamare jawan hain jinhone apna khoon diya hai, Jammu and Kashmir mein khoon diya hai, jinhone Hindustan ke liye surgical strike kiye hain, unke khoon ke peeche aap chhupe hain. Unki aap dalali kar rahe ho. Yeh bilkul galat hai. You [Modi] are hiding behind the blood of soldiers in Jammu and Kashmir and those who carried out the surgical strikes for India. You are exploiting their sacrifices, which is very wrong," Rahul Gandhi said while addressing a rally in New Delhi, marking the culmination of his month-long 'Deoria to Delhi Kisan Yatra' in poll-bound Uttar Pradesh.
"The Indian Army has done its job for the country, you do yours," the Congress vice-president said, attacking Modi.
Reaction
Reacting to the Congress vice president's "dalali" comments, the BJP on Thursday called his remarks "a new low in Indian politics" and added that his comments were proof of his "frustration" over the prime minister drawing "praise" after he gave nod to the Army to carry out the surgical strikes.
"It is most shameful. Such remarks reflect his mental bankruptcy. The Army and the Prime Minister are getting praise from everywhere for the surgical strikes. Modi is being praised for his decision and he is unable to digest it. Rahul Gandhi is in frustration," BJP national secretary Shrikant Sharma was quoted saying to PTI. Sharma also hit back by referring to a number of alleged scams, like 2G, CWG, coal, involving the UPA government.
Another party national secretary Sidharth Nath Singh said: "His statement is a new low in Indian politics. It is not only condemnable but highly irresponsible coming from the vice president of the Congress party which fought for Independence ... Surgical strikes happened across the LoC but Rahul Gandhi has done surgical strike on his party."
"खून की दलाली" will do to Sh Rahul Gandhi ,what "मौत का सौदागर" did to Smt Sonia Gandhi !!

— Sambit Patra (@sambitswaraj) October 6, 2016
We all knew Rahul Gandhi was immature ..but today the "Degree" of immaturity became clear!!

— Sambit Patra (@sambitswaraj) October 6, 2016