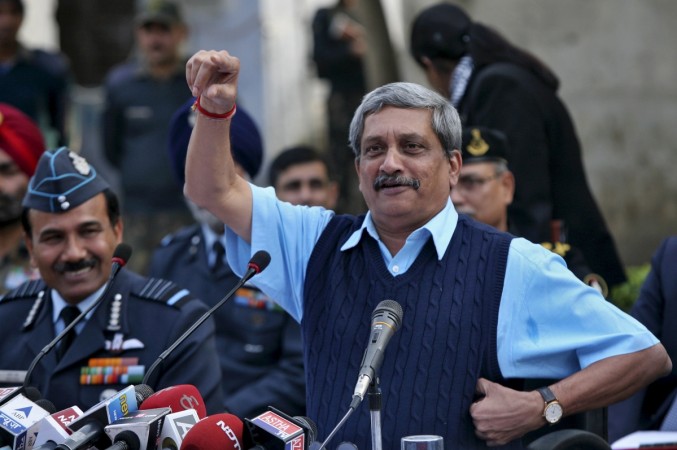 Defence Minister Manohar Parrikar on Monday dealt a two-fold blow to the Opposition, first by saying that it was the current government's political will that made the Indian Army's surgical strike on terror launch pads possible, and then adding that it was the Congress-led UPA government that had done "dalali" in key defence deals.
The Indian Army had late last month conducted surgical strikes on terror launch pads along the Line of Control (LoC) in Pakistan-occupied-Kashmir, razing seven terror launch pads and killing 38 terrorists in the process.
After the Army made the information public, Congress vice-president Rahul Gandhi had said of Prime Minister Narendra Modi: "Jo hamare jawan hain jinhone apna khoon diya hai, Jammu and Kashmir mein khoon diya hai, jinhone Hindustan ke liye surgical strike kiye hain, unke khoon ke peeche aap chhupe hain. Unki aap dalali kar rahe ho." (Loose translation: "You are hiding behind the Indian soldiers who conducted the surgical strike and doing business with it.")
Rahul Gandhi also said: "You [Modi] are hiding behind the blood of soldiers in Jammu and Kashmir and those who carried out the surgical strikes for India. You are exploiting their sacrifices, which is very wrong."
Replying to those charges, Parrikar said on Monday: "There was dalali in 2006, when there was deal of submarines. There was dalali in the helicopter deal as well." The second was a direct reference to the scam involving the procurement of VIP choppers from Italian firm AgustaWestland, with the name of Rahul Gandhi's mother and Congress president Sonia Gandhi being dragged into it.
The defence minister said there was no doubt about the capacity and integrity of the Army, but what was required was political will and capacity, which, he said, the government showed with the decision of such surgical strikes.
He also set aside any need for proof of the operation, saying the Indian Army is capable of facing any adversity and that he believes it. It may be noted that while Pakistan has constantly been ranting that no surgical strike took place, some Indian politicians demanded proof of it.
Parrikar also said: "There is no need of certificate by political leaders over bravery of the defence personnel." He added: "We showed political maturity. The daring Modi government showed it. If the surgical strike was a failure, the Opposition would have not spared us."