Vijay Deverakond is Tollywood's most happening hero right now. There is a kind of hype around every move of Vijay Deverakonda.
In this frame of context, the movie NOTA which is a political drama drew a huge buzz. Being it the first movie for Deverakond in Tamil, he is expected to be established well in the market with NOTA.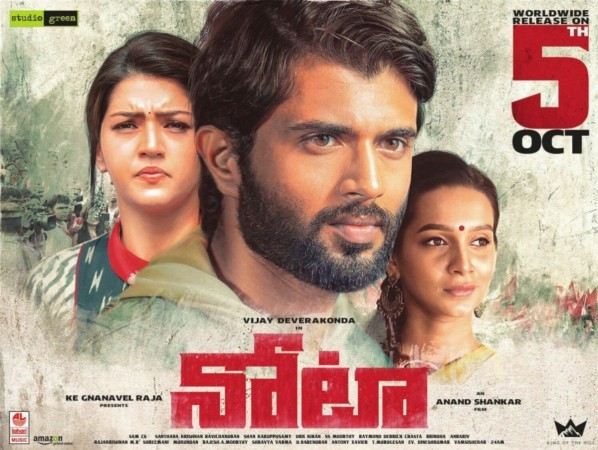 Story:
NOTA is the story of a corrupted politician who is behind saving his colossal money earned by using his Chief Minister position. Vasudev is the politician who has a command over his dumb ministers who are seen in nominal authorities.
Vasudev makes his son Varun (Vijay Deverakonda) the CM all of a sudden, as he is involved in a scam. He expects the case to be solved soon and hence makes his son a nominal CM.
During Varun's journey as a Chief Minister, he tends to make drastic changes in the way the law and order is carried out. He earns a goodwill from the people, while his father is still in the jail.
However, Vasudev gets released after which he is targeted by unknown people. The story takes turns after this. The rest of the movie is how Varun manages to keep his political position and saves his father.
Roles and Performances:
Vijay Deverakonda steals the show with his performance. As a 'Rowdy CM', Vijay Deverakonda was perfect.
Mehreen Pirzada was there in the movie for just a couple of scenes. Her role had no significance at all.
Nassar and Satya Raj had pretty lengthy roles and they did a good job in their respective roles.
Priyadarshi's short-length appearance was good too.
Analysis:
The director Anand Shankar did not care to justify the movie's title- NOTA. As the title suggests, the movie was expected to be an intense political drama with a strong plot.
NOTA fails to justify the title, as there isn't much narration around elections, votings and voting process.
The screenplay stays clumsy and unimpressive. A predictable narration kills the curiosity around the story.
The villain's role or his moves are not properly established, which doesn't give an intense impact on the story narration.
Some of the political punches might be restricted when the native impact is taken into consideration.
Technical Aspects:
The direction department should have taken care on the screenplay.
Camera work was good. The music and the BGM weren't that impressive. Production values are good. The dubbing work could have been better.
Final Verdict: A negligent narrative with a good star cast. It may fetch good box office collections due to Vijay Devarakonda but proper dealing with the subject would have made the film more impactful. Once watchable, anyway.