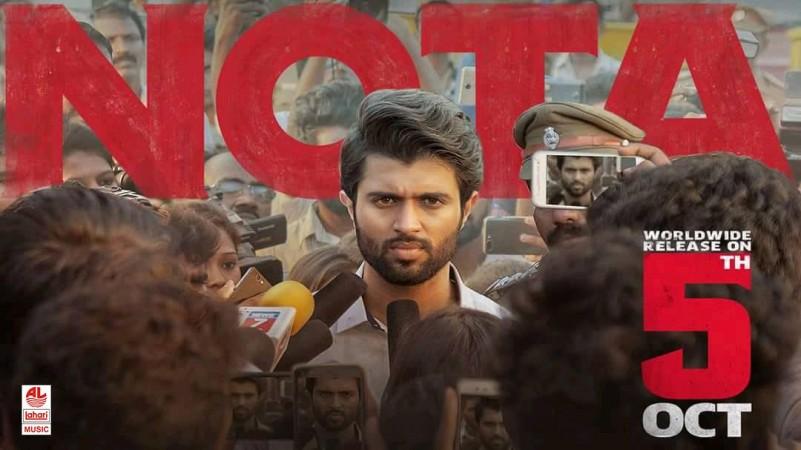 Vijay Deverakonda's upcoming movie NOTA, which is set to hit the screens on October 5, has received a U/A certificate from the censor board after the makers agreed for some cuts and mutes of controversial scenes.
NOTA is a bilingual political thriller movie that is simultaneously made and released in Tamil and Telugu. Its Tamil version has already cleared the formalities of the censor board and has received a U certificate. However, its Telugu version has landed in trouble on its censor clearance due to the assembly elections that are just around the corner.
NOTA, which features Vijay Deverakonda as a young chief minister, was screened for members of the Censor Board at Prasad Film Laboratory on October 1. The members were reportedly not happy over some controversial scenes and dialogues of the film. They were also not pleased with its title, apprehending that the electorate may press the NOTA option on electronic voting machines under its influence.
Since director Anand Shankar is a Tamilian, Vijay Deverakonda himself took the initiative and explained the vision of the movie to all the board members. He reportedly explained the importance of each scene and the vision behind every sequence and dialogue. However, he could not convince the board members.
Since the elections are just around the corner, the members of censor board didn't want to take a chance with the swear word used against the politicians. They asked the team to mute the objectionable dialogues.
Finally, the makers of NOTA agreed to mute certain words and other objectionable dialogues and settled for U/A certification. But they have to re-edit them and submit it to the board again to get the final certificate.
Kethireddy, a member of the censor board, said that NOTA is in favour of a political party in Telangana and the movie has the power to influence the voters in the upcoming elections. He demanded that the censor board clear the film for exhibition only after it was shown to the DGP, Chief Electoral Officer, Chief Secretary and other Constitutional position holders.