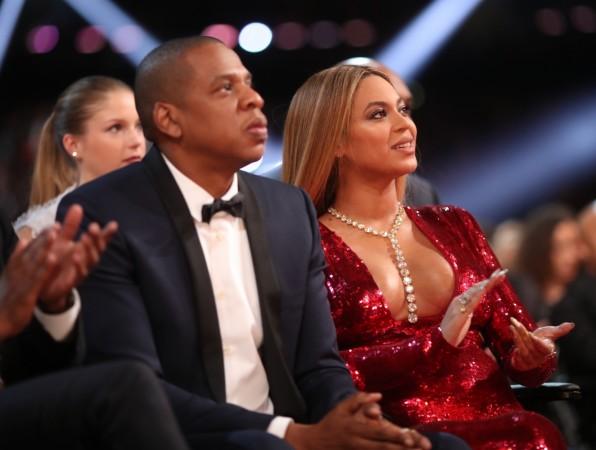 The internet has been freaking out over the last 24 hours, with the first ever pictures of celebrity-kids-royalty, Sir and Rumi Carter, getting leaked online.
For those living under a rock, Sir and Rumi happen to be Beyonce and Jay Z's five-month-old twins, whose pictures were kept away from all media under strict privacy.
Also read: Meet Beyonce's twins Sir and Rumi Carter in first ever photos leaked online!
And now, finally, after the first sneak peek of the twins' that Beyonce, 36, herself had shared right after their birth, fans and followers finally get to see what the twins look like now. But not all reactions are positive.
Over the weekend, the photos of Beyonce's twins enjoying quality family time in their Miami mansion, along with their older sister, Blue Ivy, 5, grandma Tina Knowles and daddy, Jay Z, 47, surfaced the internet. Initially the excitement from fans blew up.
But onlookers found out that the family weren't so keen on their privacy being put at stake. Of course they weren't, considering how secretive the couple has been about the twins ever since they arrived this summer.
The Root reported, "Knowing how serious the Carters are about their social media presence, and especially their fierce protection of their children, the images are slowly, surely, being scrubbed as they go up."
This obviously referred to the fact that a lot of pictures of the babies have been deleted from multiple Instagram fan accounts that are quick to share almost every Beyonce related update. Clearly, scorning the Queen Bey doesn't go down well ever.
But the Single Ladies singer wasn't the only one displeased at the media breaching their privacy. A lot of fans took to social media to state how ethically wrong it was.
Those pictures of Beyoncé & the twins are incredibly rude & invasive & my love for Beyoncé refuses to be happy about them.

— F. Selasie Amewusika (@CSAmewusika) November 12, 2017
Honestly, I think it's pretty shitty that paps schemed to capture pics of beyonce's twins, then Beyonce fan accounts posted them. She hasn't shown her children for a reason.

— Raina Thorpe ? (@Unaamorcita) November 12, 2017
Beyoncè's twins are cute but on the real paparazzi are creeps beyond explanation.

— J Davíd (@Ogluchiani) November 12, 2017
And then there were those people who had mixed feelings about it.
Me: "I hate paparazzi always being nosy and taking pics of celebs without their consent."

Me: *looking at paparazzi pics of Beyonce and the twins* pic.twitter.com/RiJRPOM6CN

— Helen Strangé ? (@KLCHII) November 12, 2017
And some were just terrified upon learning the extents to which the Carter family went to about keeping their privacy intact.
Oh my word ?? Beyoncé (my sister) is shutting down Instagram accounts that have posted pics of her twins that were leaked ??

— Jessica Nkosi (@JessicaNkosi) November 12, 2017
And others were just thrilled to finally be able to catch a glimpse of the twins.