The BJP often claims proudly that it is on its way to expand base across India, replacing the Congress – India's original national party. But two states in the northeast where the BJP is in power are facing serious natural disasters and so far, the saffron party has not been able to produce any solution. Even those saffron supporters, who feel upset with the 'ill-treatment' of cows every second moment, are silent on the grim situation prevailing in the northeast.
Assam, as usual, is facing a horrific flood situation and the official death tally reached 37 on Tuesday, July 11. Over 15 lakh people in nearly 2,500 villages across 23 districts of the state have been affected by the flood. Lakhimpur district is the worst hit with over three lakh people facing the nature's ire. Also, over a lakh hectare of cropland have been hit by the floodwaters. The government has put up relief camps numbering 115 and around 49,000 people have taken shelter there.
Several rivers in the state besides the Brahmaputra like Buridihing, Dikhow, Dhansiri, Puthimari, Sankosh and others are in spate and flowing above the danger level.
Assam CM Sarbanand Sonowal's own district under threat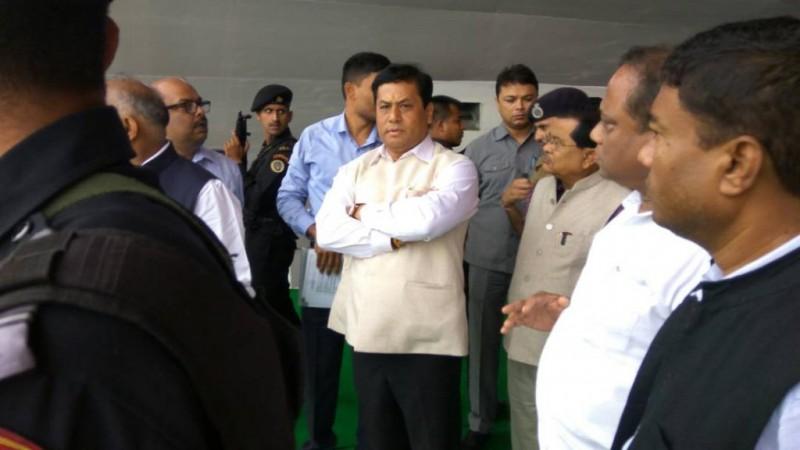 The situation has been worse in Majuli, the district of Chief Minister Sarbananda Sonowal, on Monday with a breach of a road-cum-embankment leading to washout of several houses and trees. Over 33,000 people were affected in that district, reported the Sentinel. The affected have hit out at the authorities for releasing excess waters causing the misery. The CM was expected to visit the breach site on Wednesday, July 12.
The Indian Army has been requested for help in Majuli and it is expected to launch relief operations from Wednesday, the daily said, adding that two additional state disaster response force teams will also be deployed there.
The floods have also posed a threat to the functioning of Lokapriya Gopinath Bordoloi International Airport, the only international one in the entire northeast. Several parts of the airport have got submerged and with the Met Office predicting more showers, things are unlikely to turn for the better soon.
Arunachal Pradesh also hit; 14 buried alive in landslides
Assam's neighbour and another BJP-ruled state Arunachal Pradesh also faced the nature's fury on Tuesday when 14 people were buried alive in a massive landslide in Laptap village in Sagalee sub-division in Papum Pare district of the state. The landslide was triggered by heavy rain over the past few days, said the authorities, who also felt that chances of the surviving for those who were hit were very less.
State capital Itanagar was badly hit and virtually isolated with National Highway 415, its lifeline, getting completely eroded. Chief Minister Prema Khandu, who assumed office in July last year after a lot of drama, reviewed the situation and discussed with officials ways to handle it.