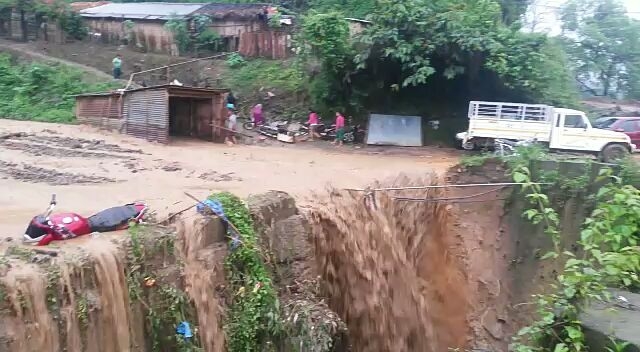 At least 14 people are feared dead in a massive landslide in Arunachal Pradesh's Papum Pare district, officials said on Tuesday.
Additional Deputy Commissioner Jalash Pertin told PTI that chances of anyone having survived the landslide are slim. He added that a rescue operation involving local government officials and villagers is underway in the area.
Pertin said that three dwellings in Laptap village were hit by the landslide around 3.30 pm on Tuesday. The village is located in Toru Circle, around 20 km from Sagalee in Papum Pare, which has been receiving rains since four days.
Rescue teams from the National Disaster Response Force (NDRF) and the State Disaster Response Force (SDRF) and the Arunachal Pradesh police were sent to the spot but they could not reach the area as the roads leading to the village have been blocked due to the massive landslides.
Last week, more than 150 people were trapped for three days following a massive landslide. An Indian Air Force chopper, which rescued the trapped people, crashed killing four.
Heavy rainfall triggered landslides and flash floods causing massive destruction across the state over the past few days.
Several major rivers in the state have been flowing above the danger level thereby affecting those residing in such areas. Surface communication has been disrupted in several areas along the NH-415 that links the states of Assam with Arunachal Pradesh, officials had told PTI on Monday.
Fourteen people feared dead in massive landslide in #PapumPare district of #ArunachalPradesh, officials say. #ArunachalLandslide

— Press Trust of India (@PTI_News) July 11, 2017