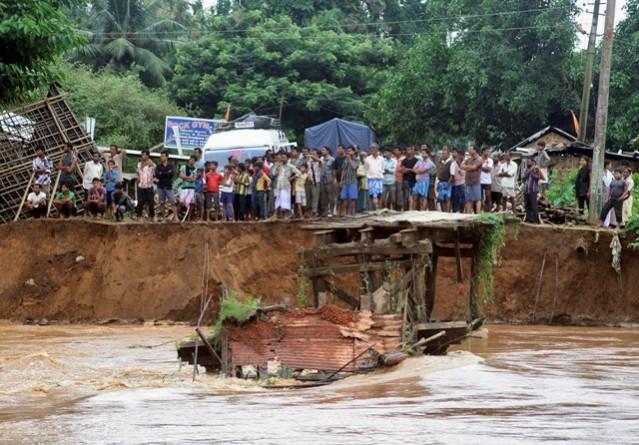 Northeast is a part of India which doesn't make many interested in the mainland. Not even after the ruling BJP has expanded its clout in the region over the past several months.
Or why isn't the electronic media, which feels excited when Congress vice-president Rahul Gandhi makes another meaningless statement while campaigning in that part of the country and gives it a committed coverage, bothered when a terrible flood situation has hit Assam? The death toll in this year's flood in the state has rose to 18 while over four lakh people in 800 villages across 15 districts have been affected.
This is an annual story of Assam's sorrow but not many channels feel to telecast it, even after it has come under the rule of the party of the country's popular prime minister, Narendra Modi.
Assam floods were always a political issue after Modi came to power
In the recent past, the Assam flood was made a political tussle between the long-serving Congress government of the state and the NDA government at the Centre. Former Assam chief minister Tarun Gogoi had accused the Modi government of not providing it with sufficient funds after the state was hit by a bad flood in 2015. The current CM, Sarbananda Sonowal had then accused the state government of playing politics with the flood relief. In 2014, too, the political blame game was on over Assam's perennial floods.
In March, Assam CM declared about anti-flood plan
In March this year, CM Sonowal had declared that he had talks with Union Transport and Shipping Ministry Nitin Gadkari and it was decided that the dredging of the Brahmaputra River will be done to give relief to the common man from flood and erosion. But when the disaster struck, Sonowal was seen tweeting more about PM Modi's visit to Israel and stressing other things than reflecting on the reason on why the loss of lives and property could not be saved even after a change of guard.
Inaugurating India's longest bridge in Assam gets so much TV coverage but not the floods
The reaction to the Assam flood has remained reactive, as it was during the earlier governments. PM Modi made a high-profile visit to the state in May when India's longest bridge over the Brahmaputra connecting Assam and Arunachal Pradesh was inaugurated and named after late singer and Assam's iconic son of the soil Bhupen Hazarika.
The saffron policy-makers undoubtedly put in a lot of effort to think out these strategies to combine politics with sentiments to keep their vote-earning machinery running. But when it comes to a less attractive work of preventing floods that kill several people and damage property worth crores every year, not much urgency is seen from any quarters.