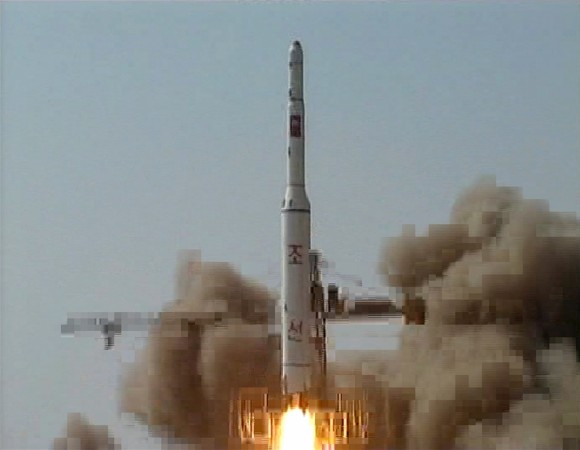 An attempt by North Korea to launch a missile off its east coast on Tuesday morning appears to have been unsuccessful, South Korean officials said. This was Pyongyang's fourth failed attempt at firing a missile since April, when the test fire of three of its mid-range missiles, believed to be Musudan, failed.
The fourth missile, which the North attempted to launch around 5:20 a.m. Seoul time, was also Musudan intermediate-range ballistic missile, Yonhap News Agency reported citing its military and South Korea's Joint Chiefs of Staff (JCS) sources.
"North Korea attempted to launch an unidentified missile from Wonsan, Gangwon Province, at around 5:20 a.m., but it is presumed to have been unsuccessful," Yonhap quoted JCS as saying.
There is a possibility that the missile blew up on the mobile launcher soon after the fire button was pressed, Yonhap quoted its sources as saying. The personnel standing close to the launch site are suspected to have suffered serious injuries, sources added.
The South Korean military is examining the details of the "failed" launch and is also prepared to respond to any conflict, the JCS said.
Japan is also looking into the data from Tuesday's launch, Reuters quoted Japanese Minister of Defence Gen Nakatani as saying. The Musudan missile has a range of about 3,000 kilometers, enough to strike Japan and United States island territory Guam, Bloomberg reported.
"We have no reports of any damage in Japan. We are gathering and analysing data. The defence ministry is prepared to respond to any situation. North Korea shows no sign of abandoning the development of nuclear missiles and so we will continue to work closely with the U.S. and South Korea in response and maintain a close watch on North Korea," Nakatani said.
Pyongyang test-fired the first Musudan missile on April 15 and two more on April 28, but all the launches were unsuccessful. According to Yonhap, North Korea has about 50 Musudan missiles. It had deployed the missile since 2007, but it was test-fired only this year.
North Korea has been defying the United Nations' resolutions that prohibit it from using ballistic missile technology. The U.N. had to take stricter measures to prevent the North from violating the sanctions further after the East Asian country tested a miniaturised hydrogen bomb earlier on Jan. 6 and a long-range missile on Feb. 7.