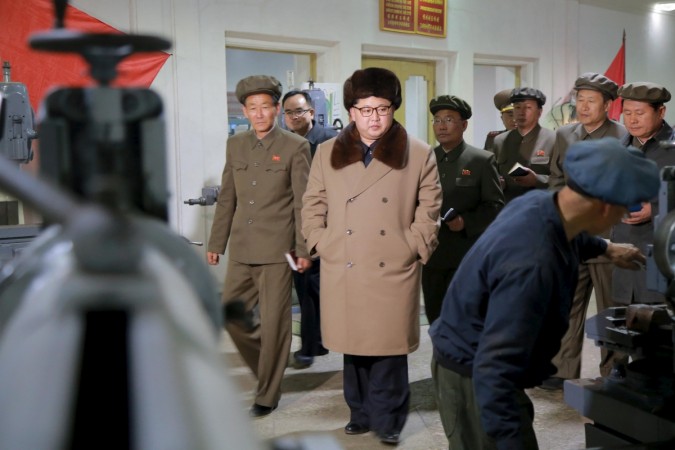 North Korea is likely to conduct another nuclear test before early May as activities at its Punggye-ri Nuclear Test Site located in North Hamgyong Province has increased at least two-fold in the recent days, Yonhap News Agency quoted South Korean officials as saying.
The possible test, fifth since 2006, comes ahead of the meeting of the ruling Workers' Party of Korea in May. Seoul believes Pyongyang could carry out another nuclear test ahead of the meeting, which will be held for the first time in 30 years.
"Compared to last month, the frequency of vehicle, workforce and equipment movements increased two- to threefold recently" at Punggye-ri test site, Yonhap quoted multiple government sources as saying. North might be moving nuclear technicians in vehicles through the North Portal tunnel of the site, sources added.
"Related officials concluded that it is a convincing sign that North Korea is preparing for its fifth nuclear test, and they are keeping close tabs on the situation," the sources said.
"If they are signs of nuclear test preparations, it seems (the preparations) are in the final stages," one of the sources said, adding that the movement at the site increased in early April.
North Korea had earlier claimed it had developed a miniaturized nuclear warhead. "If North Korea goes ahead with a fifth nuclear test, it may announce (after the test) a success in testing a miniaturized nuclear warhead that could be loaded onto an ICBM," another source said.
Pyongyang has so far conducted three nuclear tests at Punggye-ri site; one in October 2006, another in May 2009 and the last one in February 2013. It carried out the fourth nuclear test on Jan. 6 this year, provoking Seoul and the West.
South Korea has been monitoring all the activities at the North's nuclear site since the January test. North Korea, which violated many sanctions imposed on it by the United Nations Security Council after the first three nuclear tests, is facing tougher sanctions after it conducted the fourth one.