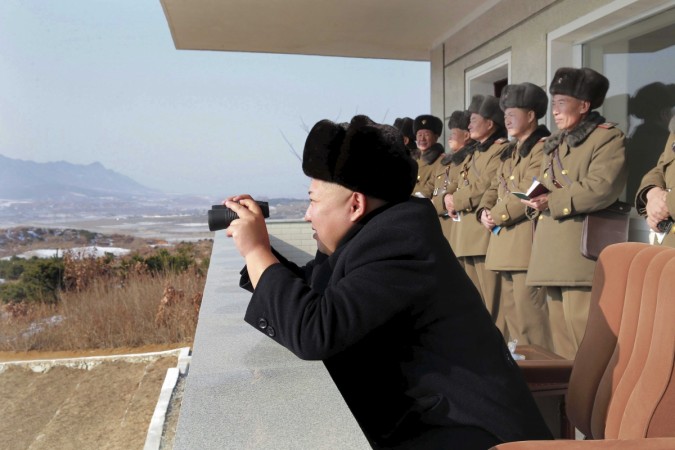 North Korea may be getting ready to launch a long-range ballistic missile from Tongchang-ri in about a week, Japan's Kyodo News reported on Thursday, citing Japanese government sources.
The Japanese government sources' claims were based on analyses of satellite imagery conducted recently. The imagery showed signs of "apparent preparations" of missile launch from the Sohae Satellite Launching Station at Tongchang-ri.
South Korean Defence Ministry also said that North Korea may "abruptly" conduct the missile test. However, it was sceptical about the launch as North Korea has not declared a no-fly zone yet.
"North Korea is likely to do it abruptly when they launch important provocative acts in the future... A no-sail zone is required internationally because North Korea's past long-range missiles or rockets flew to the east coast of the Philippines. But I have not heard so far on that," Yonhap quoted ministry spokesperson Kim Min-seok as saying.
United States' spy satellites, which are keeping an eye on North Korea's launching station, have also taken imagery of increased movement of personnel, rocket-related equipment and fuel inside the site, CNN reported, citing an US official.
The US officials reportedly believe the rocket at the site could be used as an intercontinental ballistic missile.
Missile launch would be a "direct violation" of the United Nations Security Council (UNSC) resolution, South Korean Defence Ministry spokesperson Kim said, adding that North Korea will have to "internationally declare a no fly-zone" if it plans to launch a long-range missile.
"Our military is prepared for various types of North Korea's provocation and is ... closely and continuously observing any signs of North Korea's long-range missile launch," Kim said.
"It will be a direct violation of (a U.N. Security Council resolution) and ... will be a severe provocation and threat against peace and stability of South Korea, northeast Asia and the world. It is our government's official position that North Korea should not proceed with such provocative acts."
North Korea is "readying" for an apparent launch even as the UNSC is looking to toughen sanctions against the country over the 6 January nuclear test that violated UN resolutions.
Pyongyang had claimed to have tested "first miniaturised hydrogen bomb" as a "measure for self-defence the DPRK has taken to firmly protect the sovereignty of the country...from the ever-growing nuclear threat and blackmail by the US-led hostile forces". However, experts reportedly refuted its claims.
The UN had imposed sanctions on North Korea after it conducted three nuclear tests at Punggye-ri site; one in October 2006, another in May 2009 and the last one in February 2013, for violating its nuclear and missile proliferation activities.