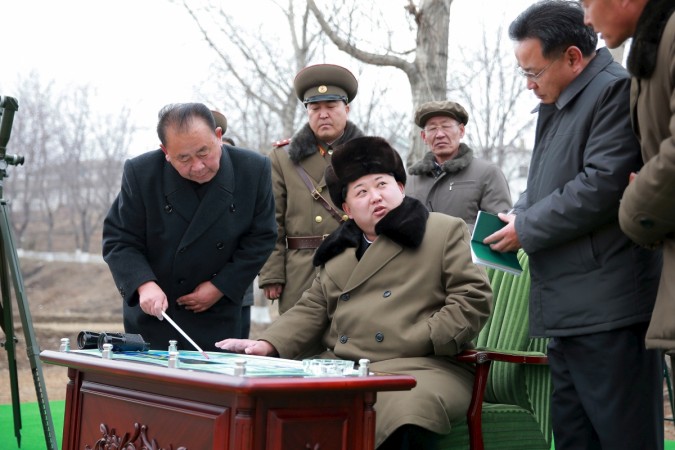 North Korea Tuesday fired a short-range missile along the east coast, Yonhap News Agency said in a tweet. This was believed to be in response to the tough sanctions imposed over its long-range missile tests and nuclear programme, Yonhap reported, citing South Korea's military.
The missile was fired from Wŏnsan port city located in Kangwŏn Province in the North at 5.40 p.m., Yonhap cited Joint Chiefs of Staff (JCS). The projectile hit the target on the land after flying about 200 km northeast.
"We are closely monitoring related developments and maintain a high level of readiness," a military official said. The South Korean military is of suspicion that the projectile could have been the North's new multiple rocket launcher system (MRLS).
U.S. President Barack Obama will meet South Korean President Park Geun-hye and Japanese Prime Minister Shinzo Abe on the sidelines of a Nuclear Security Summit in Washington Thursday to talk about the nuclear programme of North Korea, as reported by Reuters.
Tuesday's launch was the latest in a series of short-range missile launches recently. Pyongyang Monday launched five short-range rockets into the sea from HamhÅ­ng city. It had also launched a missile into the Sea of Japan Monday.
The United Nations Security Council (UNSC) unanimously voted in favour of imposing the toughest sanctions on the North March 2 for a satellite launch Feb. 6 and a nuclear test Jan. 7, which Pyongyang claimed was a miniaturised hydrogen bomb but experts have refused to believe.
Washington imposed fresh sanctions on Pyongyang March 16, aiming to freeze all North Korean assets in the U.S. and also bar exports to the Asian country. The sanctions would blacklist people or organisations trying to trade with North Korea in major sectors.
The United States and South Korea began their annual joint military drill, Key Resolve and Foal Eagle, March 7, following the North's missile launches. Pyongyang termed the military exercise a call for war and threatened Washington and Seoul of "pre-emptive strike" if it proves to be a threat to North Korea. The drill will end April 30.