Ever since Salman Khan dropped the fiery trailer of his upcoming film, social media have gone berserk. Fans were in for a good dose of entertainment with the trailer of Radhe: Your Most Wanted Bhai. Salman's trademark style, dialogue and gimmicks; seem to have wowed the audience in the trailer already. No wonder #Radhetrailer, Salman Khan and Disha Patani started trending soon after the release.
Apart from the action and the dialogues, what makes the audience even more eager to watch this one is Salman Khan's first on-screen kiss. Khan, who has never kissed in any of his prior films, seems to have locked lips with Disha Patani in this one. Fans couldn't control their excitement and shared screenshots of the kissing scene with Disha. However, we don't think Salman Khan has actually locked lips.
While at one look it appears that Salman Khan and Disha are kissing, once you zoom in, you can clearly see there's something (probably a tape) over Disha's mouth. Salman seems to be kissing or trying to pull it off. The silhouette shot and the ambiguity of it is something that would draw many to watch the film.

Radhe would also mark the first time for a film to release on OTT and theatres on the same day. Apart from getting a grand premiere in cinemas, the film would also be released the same day on ZeePlex.
Traders not happy with the hybrid release
Taran Adrash also dropped his two cents on the hybrid release and told Bollywood Hungama, "The producers did the right thing. Since it's a Salman Khan film, the costs are huge. And it's a film which was supposed to release one year ago. Imagine the interest he must have incurred due to this delay. He has all the money in the world, I am not denying that. But every film has an economic baggage. How long can you hold on?"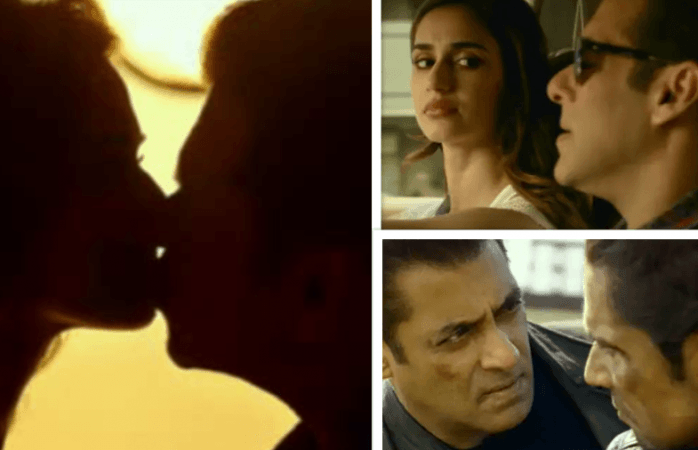 However, the exhibitors are not too happy with the development as they were hoping for only theatrical release of the film. Adarsh further said, "As for the exhibitors, they were hoping that Salman Khan will bail them out. As I have always said, he is the pied piper of Bollywood. His films, irrespective of the merit, command a terrific initial. Now a hybrid release announcement comes as a jolt for them. It's going to take some time for them to absorb the reality."