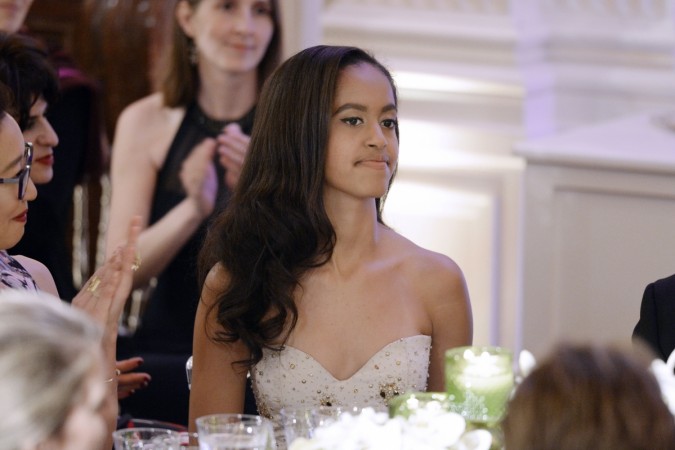 Wow! What a way to make headlines internationally. Just a few days ago, it was reported that Barack Obama's oldest daughter, Malia was caught on camera grabbing and kissing a mystery boy. While the boy's face was not visible in the video, Daily Mail published a report sharing more information on the mystery man.
After taking the internet by storm for kissing the former first daughter at a Harvard-Yale match on Saturday, it has been reported that the lucky young man's name is Rory Farquharson and he is all of 19 years old and a Harvard sophomore.
Also Read: Malia Obama smokes after kissing a mystery man while Barack bromances Joe Biden on Twitter
According to the UK news outlet, Malia's mystery man is a former head boy at one of England's most prestigious and posh schools, Rugby School. The school costs about $42,500 a year for tuition. While the report shared numerous details about the boy, there is one thing that caught many Twitterrati's attention. He follows US President Donald Trump and not Barack Obama!
The Daily Mail report wrote, "Farquharson might have some explaining to do if he ends up meeting Obama, seeing that the UK transplant follows President Trump on Twitter, but not Malia's father."
It is an interesting yet hilarious insight into the boy's life considering he kissed the former first daughter.
Sharing more details about him, it has been revealed that Farquharson began his studies at Harvard last year and announced his joining by posting a picture of himself at the campus with the caption: "So it begins".
Daily Mail shared more details as well. The website reports that the head boy position usually goes to the most outstanding student — both academically and socially — of the year. So, Farquharson has earned his stature.
That's not all! An insider told Daily Mail that girls thought he was "quite a catch" in school. The insider added: "He was very popular."
Farquharson also played rugby and was reportedly an extra in a rugby video which was played during the Rugby World Cup Opening Ceremony in 2015. The clip also features a glimpse of Prince Harry.
He also played golf in school.
The 19-year-old was also part of the Blue Bunsen Society, a chemistry club.
Farquharson interned with the Centre for Democracy and Peace Building in Northern Ireland last summer.
His Twitter profile hints that he could follow the steps of his father, Charles Farquharson who is a chief executive and director of an investment fund management group in London, into the field of banking.
While it is still early to call them a "couple" or Malia's "boyfriend," it is to wait and watch how this relationship turns out.