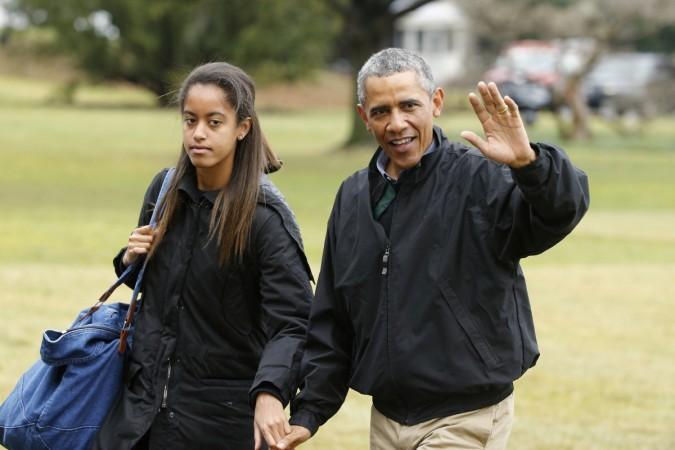 Malia Obama knows how to make the best first impression. The 19-year-old, who was killing it with her internship fashion statements, recently moved into a Harvard dorm to kick off her first year at the prestigious institute starting this fall.
Following a gap year, the 19-year-old was spotted moving into the campus accompanied by her parents, Barack and Michelle. Malia made a stylish entry into the Ivy League campus when she decided to wear a $275 top by Alexander Wang top paired with a black baby doll dress and white sneakers, Daily Mail reports.
Also Read: Malia Obama's internship style statements could give Ivanka Trump a run for her money! [PHOTOS]
Letting the wind blow her hair off her shoulder, Malia sported a black sling bag while she socialised with other students at the campus.
Obviously a life changing moment for the Obamas, it was evident that Barack got a little teary when he dropped off his first daughter at the institute's dorm. The former first family, who has been extremely open about the love and bond they share between them, were photographed having the emotional moment.
The former first couple were seen wearing their sunglasses while leaving Malia's dorm and did not acknowledge the cameras on their way out. Rushing into their SUVs, the former first family were escorted by the members of the Secret Service in a two-SUV envoy.
With the aim of avoiding a commotion at the campus, Hollywood Life reports that the former first family chose the time of the solar eclipse to reach so that the residents were busy with the phenomena while Malia shifts in. This resulted in less attraction towards Malia's big day.
Before pinning down on Harvard, Malia looked at other prestigious institutes like Princeton, Brown and the University of Pennsylvania during her decision making process. During her break year, the former first daughter interned for the HBO show Girls and worked in New York for The Weinstein Company.