The fear of a second wave of the Nipah virus has gripped Kerala, after another person succumbed to the deadly disease on Thursday (May 31), taking the death toll to 17.
Until last week around 13 people had been killed after contracting the virus. The state is being highly vigilant to prevent the disease from spreading.
Nipah scare heightens in Kerala
The latest victim, a 25-year-old as Rashin, has been tested positive of the virus. The victim, a resident of Neduvannur region, died at the Government Medical College Hospital (MCH) in Kozhikode district.
While addressing the reporters, Kerala's health director Dr RL Saritha said that Rashin was admitted to the hospital on May 26. His source of infection has also been identified. He was on the contact list of people, who were suspected to have caught the infection, from those who died earlier. Rashin likely contracted the deadly disease from another victim named Ismail, when the duo were undergoing treatment at the Balussery taluk hospital of the same district.
Ismail was later admitted to MCH, where he succumbed to the infection on May 20.
Earlier on Wednesday (May 30), two people named Madhusudhanan, 56, and Akihil Karasserry, 28, died because of the virus. Three patients are also currently being treated for the fatal virus in isolation wards at the MCH in Kozhikode, where the infection was first reported. Nine more people have been kept under observation, said Hindustan Times.
The Nipah virus has also claimed the life of an Army man, Seenu Prasad, in West Bengal's capital Kolkata.
Medical department becomes more cautious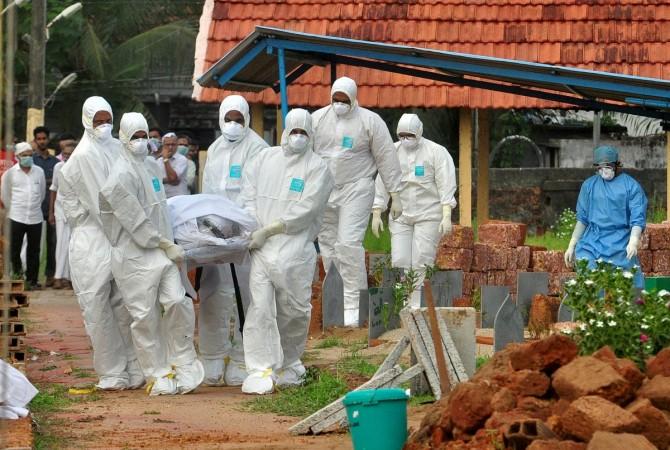 As Nipah virus fear escalates in Kerala, the health department is working toward adding more people, who came in contact with the infected or the deceased to its list. Those people will be kept under observation.
Patients, who have been confined to their homes over Nipah virus scare, are being provide free ration supplies and a sustenance allowance, so that they do not get out of their houses and increase the possibility of spreading the disease.
Meanwhile, the health department has also set up a 24x7 helpline at the government guest house in case anybody experiences the symptoms of the fatal virus. The number they can reach out to is at 0495-2381000.