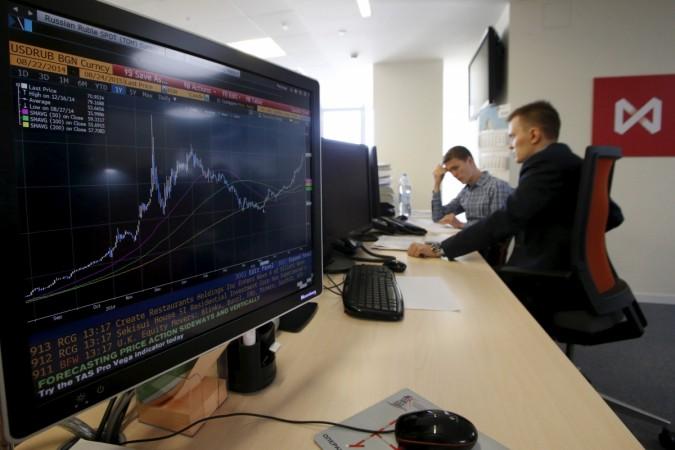 A new sanctions move by Washington against Moscow sent Russian markets sharply lower on Thursday, Aug 9, adding impetus to an existing selloff as the rouble hit a two-year low and shares and bonds also tumbled.
The Trump administration said overnight that fresh sanctions were needed after it determined Moscow had used a nerve agent against a former Russian agent and his daughter in Britain, something the Kremlin has repeatedly denied. Russia's embassy in the U.S. called the measures draconian.
The rouble dropped to its weakest level since August 2016, at 66.73, before paring losses to trade at 65.80 by 0915 GMT.
"There is local panic on the currency market," BCS Brokerage said in a note. "At times, the number of those who want to ditch the rouble is becoming so high so there is not enough liquidity."
The Russian currency is on track for its deepest weekly fall since early April when it lost 6.7 per cent after Washington imposed sanctions on Russian companies to punish Moscow for 'malign activities'.
The drop followed a massive sell-off on the Russian market the day before after the Kommersant daily published what it said was the full text of a draft U.S. law detailing a separate of series of possible penalties against Russia.
Analysts warn of dire consequences for the rouble if the measures pass through Congress.
"If the bill becomes law and Russia retaliates, we estimate that USD/RUB could move to 72.00, while EUR/RUB could hit 83.50, as any major selloff of Russian local debt, local credit and stocks would amplify outflows from the rouble," Danske Bank said in a note.
Broad-based selloff
With the threat of sanctions multiplying, concern is also growing about the lack of a reaction to the selloff from Russian financial authorities, analysts at Rosbank said in a note.
The central bank did not immediately reply to a Reuters request for comment on the rouble's drop and its possible consequences.
As the selloff deepened, government bond yields hit their highest since January 2017, and five-year Russian credit default swaps (CDS) - which reflect the cost of insuring its debt against default - rose to their highest since June 19 of 154, up from 133-134 earlier this week.
Benchmark stock indexes were also down. The dollar-denominated RTS. IRTS shed 2.0 per cent to 1,092.1 points after sliding to 1,073.15, its lowest since April 11. The rouble-based MOEX. IMOEX was 0.3 per cent lower at 2,286.3 points.
Russia's largest airline Aeroflot (AFLT.MM) fell 12.25 per cent to 98.15 roubles, its lowest since August 2016, after Washington said it was considering suspending the carrier's flights to the United States.