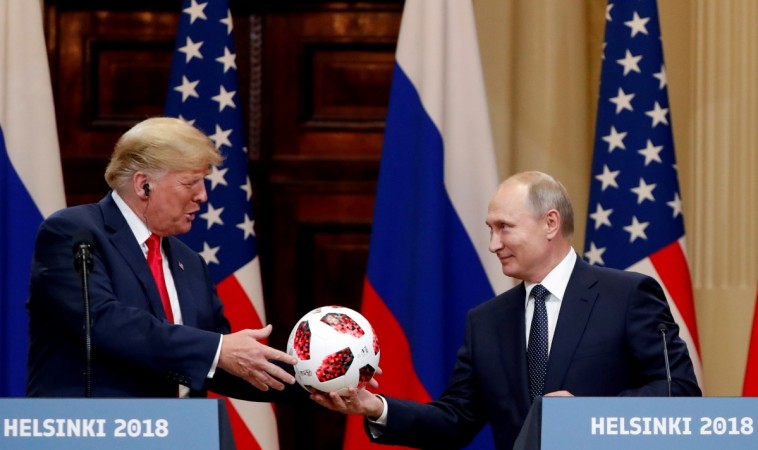 Russian President Vladimir Putin said on Friday he wanted U.S. President Donald Trump to be his guest in Moscow, an idea that the White House welcomed despite lingering criticism over the Helsinki summit.
The Russian leader said on a visit to South Africa for an economic conference that "appropriate conditions" were required in both countries for another summit to take place, an apparent reference to a political uproar in the United States last week after the two men met.
The White House said Trump was enthusiastic about another summit. Trump has said he wants to improve ties between the two nuclear powers, whose relations have dipped to a post-Cold War low in recent years.
"President Trump looks forward to having President Putin to Washington after the first of the year, and he is open to visiting Moscow upon receiving a formal invitation," White House spokeswoman Sarah Sanders said in a statement.
Separately, U.S. Secretary of Defense Jim Mattis said he was considering the possibility of the first talks in years between the defence chiefs of the United States and Russia. Mattis said there had been no decision.
Trump was criticized at home for failing to confront Putin publicly over Moscow's interference in the 2016 U.S. election, and for seeming to contradict his own intelligence agencies on the threat from Russia. Trump has defended his conduct.
Russia is under punitive sanctions imposed by the United States and the European Union and wants them lifted. Putin told reporters on Friday: "We need for the appropriate conditions to exist, to be created, including in our countries" for more U.S.-Russia summits. He went on to say Russia was ready to greet Trump in Moscow. "Be my guest. He has such an invitation, I told him that."
Following the backlash in the United States over Trump's cordial public tone with Putin in Helsinki, U.S. and Russian officials backed away from Trump's proposal to schedule a follow-up meeting in Washington in the fall. The White House on Wednesday postponed that invitation until next year when a federal investigation of Russian election interference could be finished.
Efforts by both Trump and Putin to achieve detente have been fiercely resisted by U.S. lawmakers, including some in Trump's own Republican Party, accusing him of being too friendly toward Putin, whom they consider an adversary of the United States.