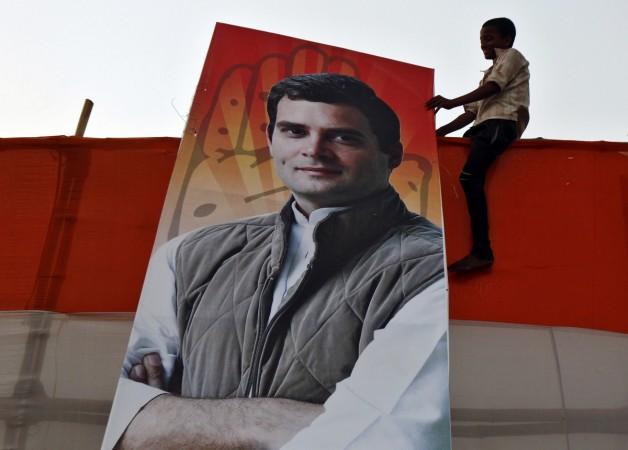 Congress workers on Thursday August 30 put up posters in Uttar Pradesh's Gorakhpur describing party president Rahul Gandhi as 'Shiv bhakt' (a devotee of Lord Shiva). The Congress chief was also described as "Pt (Pandit) Rahul Gandhi" and a "janeudhari" (one who wears 'janeu' or sacred thread).
According to a report in The Hindustan Times, earlier media reports quoted highly-placed sources as saying that Rahul Gandhi would embark on a 12-day the Kailash Mansarovar Yatra from August 31. However, there hasn't been any official announcement of the pilgrimage.
Led by the party's district general secretary Anwar Hussain, Congress workers marched on the streets with the posters. "The entire country is happy with Rahulji's decision to go on a pilgrimage. During his spiritual tour, he will perform 'sadhna' and pray for the country. We pray that his wish comes true," said Hussain.
During his Jan Akrosh rally on April 29 in New Delhi, Gandhi had said he was a devotee of Lord Shiva and announced he would go for the Kailash Mansarovar Yatra. He also narrated the incident when a plane carrying him to Karnataka suddenly came down by 8,000 feet making him believe that it was his end. "After the narrow escape, I decided to thank Lord Shiva by visiting the pilgrimage site," Gandhi had said. The incident happened during the landing of the flight from New Delhi at Hubballi in north Karnataka on April 26.
According to reports, last year, a massive controversy had erupted when Gandhi's name was allegedly mentioned in the register meant for non-Hindu visitors at Gujarat's Somnath Temple. The Congress chief reportedly made around 30 visits to temples during his campaign trail for Gujarat Assembly Elections 2017. He was also criticised for playing the soft-Hinduism card in the ongoing elections.