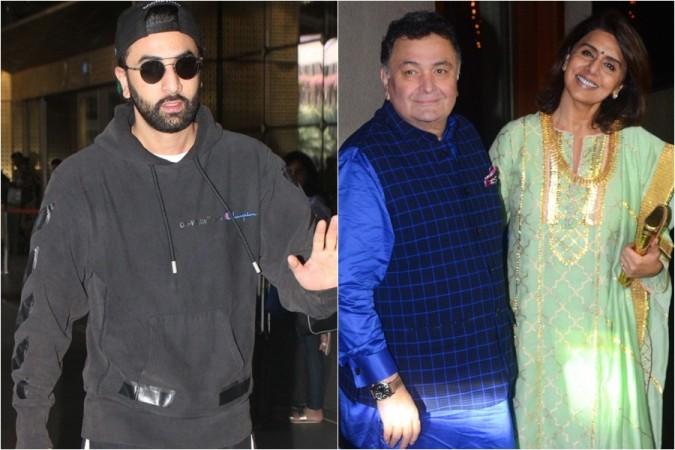 Neetu Kapoor has never shied away from speaking about Rishi Kapoor's weird behaviour and habits on public platforms. On Sunday, she walked down the memory lane to relive the moment when she was asked to compare the characteristics of her husband and son Ranbir Kapoor.
In a short clip, Neetu Kapoor says, "He is a brat, he is a bully. And he is loud. Ranbir is totally down-to-earth, simple and never loses his cool," while sitting next to Rishi Kapoor. She can also be seen apologising to the veteran actor for her words after the latter stares at her and she breaks into laughter along with the rest of the audience.
While sharing the video on Instagram, she wrote that whatever has had happened at that time was totally unintentional adding that she loved watching her husband's expressions when she said all these things in front of him.
"This was totally unintentional was asked to compare junior n senior !!! His expressions Priceless #nofilter #funny," she wrote on Instagram.
In 2016, when Neetu was in conversation with Simi Garewal, she said that her children are very humble, unlike her husband. "Both Ranbir and Riddhima are very very humble, unlike him (Rishi Kapoor). Ranbir still looks down while talking to his father. He's very very grounded and simple."
Neetu had also revealed that she had to be there in the home to make the conversation happen between her husband and son as they would have very quiet moments with each other.
"I was away for a few days and Ranbir was home. I kept calling him to ask how're you doing. He said 'I'm fine, I'm having dinner with papa' and all that. So when I got back, I was like 'how was it'? He said 'we had quite a few quiet moments'. He said 'koi baat hi nahin huyi. Hum dinners pe jaate thhe aur khana khate thhe'. I have to be there in the house for a conversation to happen between them," she said.
Speaking about his relationship with his son Ranbir and his father Raj Kapoor, Rishi Kapoor said, "There's a wall between us. There's a glass between us. We can see each other but not feel anything. I had a fear of my father. I was in awe of him. I had great respect for him. It took him a long time to say 'have a drink in front of me'. I used to call him 'sahab'. But I feel like a loser, I've missed out. But I haven't done it deliberately, it is just a very natural phenomenon. Now that we don't live under one roof, there's more communication. He (Ranbir Kapoor) talks to his mother more than me. But I don't think Ranbir will be a father like me."
He added, "I'm not made that way. I don't want to believe that I'm in a back-slapping relationship with my son. There has to be some kind of respect for your father. Maybe I am losing out on something in life."
Watch the video here: