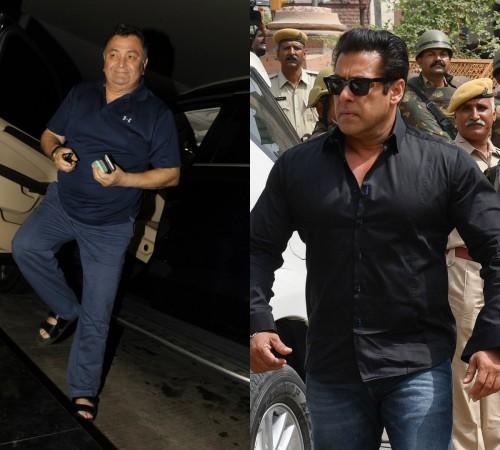 Sonam Kapoor and Anand Ahuja's wedding was a star-studded affair where the who's who of Bollywood added a dash of glamor by celebrating with the bride and groom. The videos that have surfaced show the Khans bonding, Karan Johar's mind-blowing performance and Anil Kapoor playing the ideal host. But reports from the behind the phone cameras are making the headlines.
Although Salman Khan won the internet with his dancing video with Shah Rukh Khan, he entered a certain Kapoor's bad books with his carefree attitude. If a report by Peeping Moon is to be believed, the Race 3 actor ticked off Rishi Kapoor at the wedding reception.
The report shares that while the glitzy and glamorous reception was going on, Rishi Kapoor had a furious argument with Salman Khan's sister-in-law, Seema Khan. The senior actor was angry that he has not been "greeted properly" or "acknowledged" by Salman ever.
An angry Rishi went on a rant and eventually found his way out of the wedding. Meanwhile, Salman went on to dance his heart out and enjoy the wedding.
Reports about Rishi Kapoor getting furious at younger generation actors is not new. Rishi made the headlines a few weeks ago for confessing that he could beat up a media person if he loses his cool during an interview with the media.
While promoting his recent release, 102 Not Out, the veteran actor spoke to Asian Age and said, "I do not possess the strength, patience, and charm to speak to each and every media person. In fact, I do not derive any pleasure while giving an interview at all. Aggressive ho jauga. Naaraz ho jauga. Aur interview lene wale ko peet dunga. (I will get aggressive, upset, and will beat the interviewer)"
Before this, Rishi Kapoor had slammed actors for skipping fellow veteran actor Vinod Khanna's funeral. He tweeted, "Shameful. Not ONE actor of this generation attended Vinod Khanna's funeral. And that too he has worked with them. Must learn to respect."
Rishi added, "Angry. Met so many chamcha people last night at Priyanka Chopra's do (sic) last night. Few at Vinod's. So f***n transparent. So angry with them."