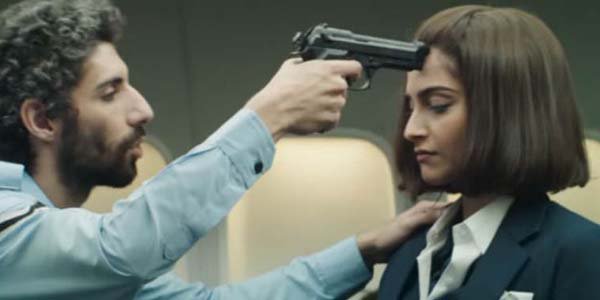 Director Ram Madhvani's Bollywood movie "Neerja" starring Sonam Kapoor, Shabana Azmi and Shekhar Ravjiani, has received positive review from the audience around the world.
See: Neerja Review | Celebs Review | Reasons to Watch It | Special Screening Photos
"Neerja" is a biographical film, which is based on the life of Neerja Bhanot who was shot dead by terrorists. The movie revolves around the actual hijacking of Pan Am Flight 73 in Karachi, Pakistan on Sep 5, 1986. It is about how flight attendant Neerja fought for the lives of her passengers.
Saiwyn Quadras has written the script for "Neerja" in collaboration with Sanyuktha Chawla. Their screenplay is the biggest asset of the movie. Sonam Kapoor, who has played titular role Neerja Bhanot, has delivered wonderful performance, which is another highlight of the film, say the audience.
Atul Kasbekar has jointly produced "Neerja" with Shanti Sivaram Maini, Bling Unplugged and Fox Star Studios. The movie has superb production values. Vishal Khurana's music, Mitesh Mirchandani's cinematography and Monisha R Baldawa's editing are the big attractions in the technical front, add the viewers.
Many film goers shared their verdict on the film on Twitter after watching it. We bring you some unique comments. Here is the live update of the "Neerja" movie review by audience.
Shiva Satyam ‏@AsliShiva
#Neerja is OUTSTANDING film with TERRIFIC acting by @sonamakapoor & for this film she will win national award.#Neerja is a must watch film. #Neerja has superb direction, screenplay,cinematography,Editing,& outstanding Emotional story & during climax my eyes was full with tears.
Rohit Jaiswal ‏@rohitjswl01
Aftr Watchn #Neerja all I can @sonamakapoor God gve u a golden opportunity, and u grabbed it, Take a Bow u beauty... #Neerja 4/5 A film like #Neerja does not need any support frm any1 in Bollywood, all it needs is respct... @sonamakapoor Overall #Neerja is a winner, simple @sonamakapoor
KRK ‏@kamaalrkhan
It's interval n what a great film #Neerja! What a superb direction! What a terrific screenplay! What a superb acting by Sonam! #Salute What a great n emotional film #Neerja and what a terrific acting by each actor! You can't afford to miss it. I give 4* to this amazing film.
Sidhu ‏@sidhuwrites
#Neerja: A decent in-flight thriller which is bobbed down by some unwanted sub-plots and over-dramatic staging. Just about watchable. #Neerja: Sonam Kapoor and Shabana Azmi come up with heavy performances, though they have to cry a lot. The latter is brilliant at the end.
@ifoufou7
May god rest ur soul in peace #Neeraja what a pure soul u carried and an angelic personality ❤ Ur definitely a gr8 example of bravery Dont miss watching #Neeraja movie such a gr8 movie ... very painful and heart touching movie. #SonamKapoor at her best. Bravo !! #Shabanaazmi what a gr8 performance I cried a river #NeerjaBhanot
Faridoon Shahryar ‏@iFaridoon
Interval of #Neerja ...stunned, moved and speechless!! BRILLIANT so far!!!!! Courage is not A virtue ..but The virtue!! Ram Madhvani's #Neerja is a heroic story of a girl who displayed extraordinary Courage!!! .#Neerja will make u cry n yet scaffold u with courage 2 raise voice against injustice n why 1 must nevr compromise on Self Respect! A taut screenplay by Saiwyn Quadras n brilliant direction by Ram Madhvani makes #Neerja a fascinatingly gripping movie watching experience! The strength of the director lies in d fact that he puts every1 in perspective b it #Neerja,her parents,passengers,terrorists. #Reasoning Sonam Kapoor has fought 4 what she believes,in Real life.This makes her a v credible actor whn she portrays #Neerja.Honesty comes 4m Within! Sonam has delivered performance of a lifetime.Precision is hallmark of her BRILLIANT performnce.She internalises pain,fear,courage! #Neerja Shabana Azmi is a magician actress.She always pulls up a surprise.
lɐɯɐʎɥs ‏@ShyFyy
I liked #Neerja a lot. Engaging, well-made and well-acted for most. And a really inspiring story of true courage, selflessness & heroism.
Elena Tuteja ‏@TutejaElena
I've just come back from the theater with my eyes red.Was crying through the whole 2nd part of #Neerja @sonamakapoor @AzmiShabana #Neerja is such a wonderful n inspiring movie! But such an emotional n heart breaking! It is made so realistic @sonamakapoor @AzmiShabana I knew what 2 expect before watching but still couldn't control myself! It was like I was in that plane too! @sonamakapoor @AzmiShabanaHats off to the whole team of #Neerja brilliant job u've done! @foxstarhindi @sonamakapoor @AzmiShabana Was so surprised by @sonamakapoor Girl,u were so good! Very well attempted!Performance as #Neerja was very natural. It's truly a step ahead! And of cause the gem of #Neerja is @AzmiShabana U show the class of acting every time, mam! N every time u surprise me!
Abhishek Vikram ‏@vikramabhishek
Even the worst critic of @sonamakapoor will admit that she has nailed it in #Neerja. And what an act of bravery by #NeerjaBhanot
Prathamesh Avachare ‏@onlyprathamesh
What A Brave & Selfless Person #Neerja Was, Massive #Respect For Her Courage With Which She Saved So Many Lives Without Any Fear. .@sonamakapoor Has Given Full Justice To The Role Of #Neerja With Her Clinical Acting & The Wonderful Direction Makes It Worth A Watch!
Jitesh Tandel ‏@JiteshTandel
Saw #Neerja.. Superb movie..fast paced, gripping, emotional.. @sonamakapoor's career best performance... Everyone must watch this one.