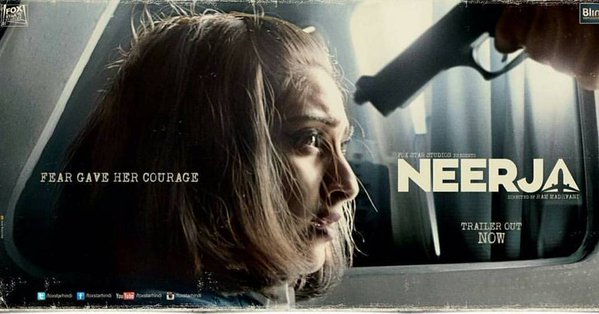 Sonam Kapoor's movie "Neerja" will be released on Friday, Feb. 19, and celebs who have already watched the film, have lauded the actress' performance. The makers of the film had begun special screening for celebrities a week ago of the release.
The movie is based on the life of model-turned-flight attendant Neerja Bhanot, who was shot dead by terrorists during the Mumbai-New York flight Pan Am hijack in Karachi on Sept. 5, 1986. She became the youngest recipient of the Ashok Chakra -- the highest civilian honour given by the Government.
Kapoor plays the lead role of Neerja. Directed by Ram Madhvani, "Neerja" showcases the bravery of the young woman who sacrificed her life to save passengers during the hijack.
Meanwhile, the "Prem Ratan Dhan Payo" actress' performance has impressed several Bollywood celebs, including Boman Irani, Bhumi Pednekar, Athiya Shetty, Huma Qureshi and Swara Bhaskar. They also lauded Shabana Azmi, who plays Kapoor's mother in the film, for her brilliant performance.
Here are the tweets:
Athiya Shetty
Heartfelt, honest, real... Just like #Neerja. Thanks for a story that needed telling @atulkasbekar #RamMadhvani @AzmiShabana @sonamakapoor
Huma Qureshi
Congrats @sonamakapoor on #Neerja.. what a film!must watch ..@AzmiShabana makes Ur know once again what a power house of performance she is
Boman Irani
It's not very often I go nuts over a film. Thank you @atulkasbekar thank you. For making #neerja happen
#RamMadhvani 's #Neerja will make every Indian proud. Will be loved & referenced for a long long time. But for the moment I'm emotional!
#Neerja is quite simply a Monumental Triumph!!!!
Swara Bhaskar
#Neerja & finally they who made it happen Thank u @atulkasbekar @findingshanti #Bling 4 having the vision n courage 2 bring this tale 2 life
Bhumi Pednekar
Extremely moving,thrilling,brave and a beautiful story said beautifully @sonamakapoor ❤️ power to you and #neerja.@AzmiShabana Maam
Dia Mirza
Powerhouse @AzmiShabana I salute you. @sonamakapoor you are so honest and endearing. @ShekharRavjiani you shine.All actors so real! #Neerja
Be proud team #Neerja. You have so much integrity it shines in the film. #NeerjaFebruary19
Raj Nayak
What a brilliant Movie #Neerja a MUST SEE ! Congratulations #RamMadhvani @sonamakapoor @AzmiShabana @ShekharRavjiani @atulkasbekar & team
Sophie Choudry
#Neerja is a film 2b proud of;gripping,real,superb@sonamakapoor noone could have played her better than u! Bravo & Tku Ram,Atul @BlingLive
Anil Kapoor
Saw #Neerja last night , still haven't slept and I'm failing to get across to whoever ends up reading this what an experience the film is
Every viewer was lost in his or her emotions but there was an energy in the cinema that everyone felt #Neerja #masterpiece
some people our so brave that they make you question your own humanity #Neerja #NeerjaBhanot the most fitting tribute to a true hero