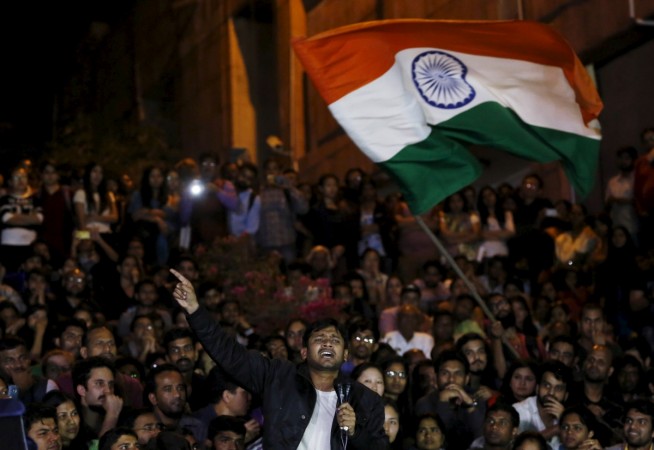 JNU student leader Kanhaiya Kumar took on the Narendra Modi government on Friday, a day after his release on interim bail, saying the Constitution cannot be tampered with and nationalism can't be somebody's sole preserve.
"The Constitution calls for equality, brotherhood and harmony and it is not a video that can be doctored, it is a document written by the revolutionary men and women of this country," the Jawaharlal Nehru University Students' Union (JNUSU) president told the media in New Delhi, as reported by ANI.
He was apparently referring to the two video tapes, of the seven, that showed him shouting "anti-national" slogans but later turned out to be doctored.
Kumar was released after three weeks of arrest on sedition charges and being accused of allegedly raising anti-national slogans against India at an event organised on Feb. 9 at the JNU campus to mark the death anniversary of Afzal Guru, the terrorist who was convicted for the 2001 terror attack on Indian Parliament in 2001.
Laying to rest the allegation that he sort-of glorified Afzal Guru, Kumar clarified that Dalit scholar Rohit Vemula, who committed suicide last month in Hyderabad, was his icon, and not Afzal Guru.
"Afzal Guru was a citizen of this nation, he was from Jammu and Kashmir and the law punished him. He is not an icon for me, Rohith Vemula is. There will be a Rohith Vemula in every house."
He almost contradicted CPM leader Sitaram Yechury's claim that he would be campaigning for the Left parties in the upcoming Assembly polls in West Bengal.
"I am not a political leader. I am a student, which is why I am not thinking about it now. I want to become a teacher in the future. First, I will fight for the rights of the students at the university and Bengal is too far now," the 29-year-old leader said.
West Bengal goes to polls in April-May this year, along with Tamil Nadu, Kerala, Puducherry and Assam.
Kumar got a hero-like welcome when he returned to the JNU campus in New Delhi on Thursday after being lodged in Delhi's Tihar jail for three weeks. Two others – Umar Khalid and Anirban Bhattarcharya – arrested on the same charge are still in jail.
Kumar also took a dim view of being accused of seeking "azaadi," or freedom, from India.
"I am not asking for freedom from India, I am asking for freedom in India," he said.
Union Urban Development Minister Venkaiah Naidu, a key member of Prime Minister Narendra Modi's NDA government, said that JNU students should refrain from indulging in politics.
"They must study and stay away from politics. If they are interested in politics, they can leave studies and join politics. He can join any political party. His favourite party is now in single digit in the Parliament. Let him join that party. Let him not use the grab of students and students union to take up the cause of Afzal guru, Yakub Memon and Maqbool Bhatt. All these three people are anti-nationals," ANI quoted Naidu as saying.