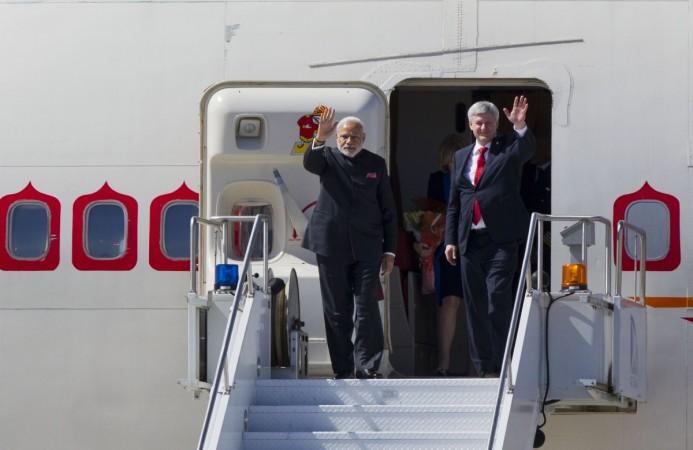 The foreign travels of Prime Minister Narendra Modi and the BJP-led government's advertisement expenses have cost nearly Rs 7,000 crore to the taxpayers in the last four years.
While the prime minister's extensive travels around the world ever since he came to power in 2014 cost the exchequer nearly Rs 2,000 crore, the government advertisements publicising his signature projects cost an additional Rs 5,000 crore, Bloomberg reported on Friday, citing government data.
The prime minister undertook as many as 84 foreign trips during his tenure so far. Travels around the world were so hectic that they drew flak from the opposition leaders who said Modi was mostly out of the country.
The data on the cost of Modi's travels, which included the maintenance of Air India One aircraft and the cost of setting up hotline communication while in air, was revealed in parliament by V.K. Singh, minister of state for foreign affairs.
Rajyavardhan Rathore, the junior minister for information and broadcasting, gave the data on the cost of advertising in reply to a question in parliament.

Though Bloomberg tried contacting the spokesmen of the government and the ruling BJP, it could not elicit any reply so far.
Globe-trotting draws flak
Modi's extensive globe-trotting had drawn bemusement early on in his prime ministership, but the party and the government defended this saying the prime minister's trips raised the country's profile and image abroad and nurtured relations with the peers.
However, very often the claims were questioned by opponents. Shiv Sena was one of the parties that has launched brazen attack on Modi over his foreign jaunts.
"While it was being said that the PM's foreign tours enhanced the country's prestige globally, his image lies in tatters after the UN report on Kashmir," Sena said in an editorial in party mouthpiece 'Saamana'.
A report in 2016 said the prime minister had undertaken an average of more than two foreign visits each month in 2015.
As per a report in June, the estimates of Modi's travel expenses did not include the cost of his domestic tours.