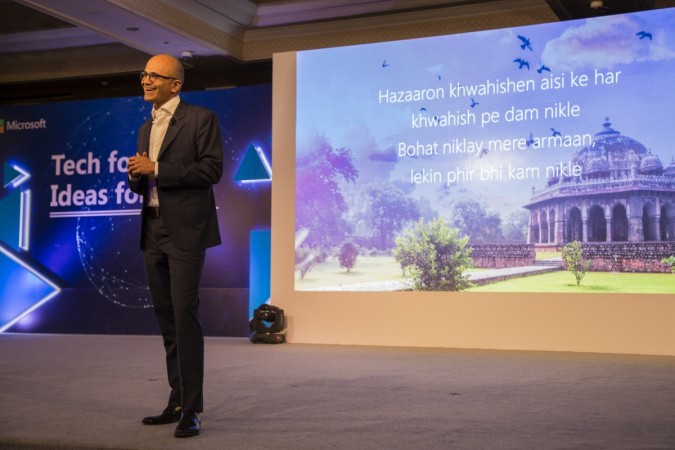 Microsoft CEO Satya Nadella lauded the drive and spirit of developers and entrepreneurs in India who are bringing change to the country as well as the world. Nadella delivered a keynote speech at the Tech for Good, Ideas for India event held in New Delhi on Monday.
During the event attended by student developers and entrepreneurs, Nadella recounted his interactions with a similar group of participants of Microsoft's Imagine Cup, earlier that day. He highlighted a few of the innovations showcased there, which included iBOT, an Internet of Things (IoT) service that aims to democratise the space, allowing manufacturers to transform their products.
Read More: Stretchy electronics lead healthcare monitoring to 5G connectivity
Nadella spoke about an app that uses computer vision to ensure garbage collection. Users will simply need to click a photo of garbage on the streets and the app will alert the authorities.
Nadella opened his speech by talking about devices that would be able to recognise objects through the built-in camera. Computer vision, he believes, will be encoded into every app, along with speech and text recognition, allowing users to have conversations with their devices. Microsoft calls the technology "conversations-as-a-platform" and Nadella believes it will be the next transformative change in the way in which we interact with computers.
The Microsoft chief executive had previously showed off conversations-as-a-platform during the Microsoft Build event where he expressed that users will be able to have conversations and execute specific tasks, like calling a cab or making dinner reservations, through chatbots. This will be on the lines of how graphical interfaces changed the way computers are being developed and how the iPhone ushered in the touch-screen era of smartphones.
Much like how websites and apps are being made, Nadella believes that soon, "You are going to build these bot interfaces that understand human dialogue. And, it's going to be a pretty profound shift in how computing is experienced by everybody. It's probably going to be the most democratising force and make it accessible to anybody, who is 80 years old or an 8-year-old."
Read More: ARM unveils SoCs and GPUs to usher in VR revolution
Nadella also showed off the advancements in the field of augmented reality (AR) that Microsoft has made using the HoloLens. He highlighted the concept of digital presence, where users can interact with holographic projections of other individuals located elsewhere, merging the analogue and digital worlds.
Read More: Is Microsoft's Holoportation technology the future of communication?
"What is architecture is not going to be the same again, what is industrial design is not going to be the same again," he said.
"It is so inspiring for me to come here, to see this broad spectrum of student developers, entrepreneurs, artists and even some big brands, ecommerce companies, who are all changing the landscape of India and thereby, the world," Nadella said at the end of his address.