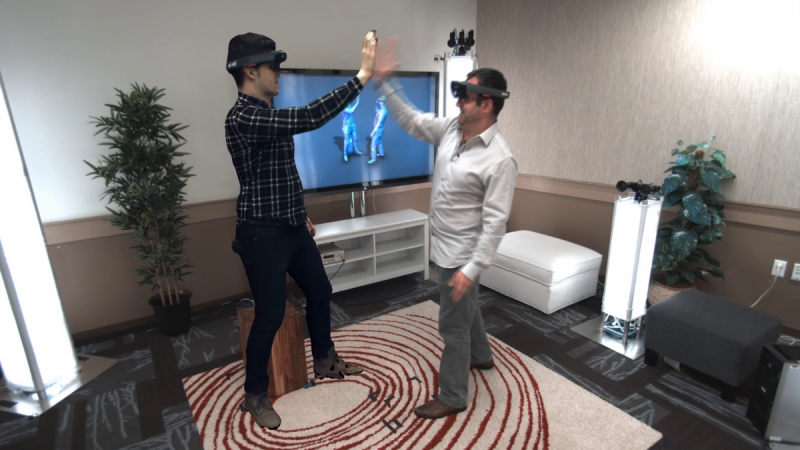 In 2012's Coachella, Snoop Lion (formerly and currently known as Snoop Dogg) and Dr Dre brought deceased rapper Tupac Shakur back on stage through the magic of holograms. Indian Prime Minister Narendra Modi amplified his election campaign through the power of holograms. And now, Microsoft is using its augmented reality (AR) headset, the HoloLens, to bring people closer to each other.
Holoportation, as Microsoft calls it, is a portmanteau of hologram and teleportation. It's like Skype flavoured with AR with a dash of being able to play your interactions back when you want.
The set-up is simple and requires 3D cameras that are set up to capture the action from different angles and the HoloLens headset. With the person you're interacting with using the same set up, the two of you can interact with each other, almost as if you're in the same room. Microsoft has remarkably managed to capture the action, compress it and beam it to another location almost instantly.
The demo video used to explain the technology was shot in a controlled environment, but given enough time and work, this technology could show immense potential. Microsoft Research's Shahram Izadai, who presented the demo, interacted with his daughter in the video, saved the interaction and played it back and even scaled it down to fit the size of a small table top. If that doesn't add a new dimension to family videos, then we don't know what does.
However, the quality of the images shown in the video is hardly great. Engadget points out that the translucent images in the picture-in-picture shots will be more on the lines of what one might see during a holoportation experience, but that still isn't a reason not to look forward to the HoloLens.
Then again, the $3,000 price tag on the developer kit of the HoloLens does give one reason to wait for the technology to develop further.