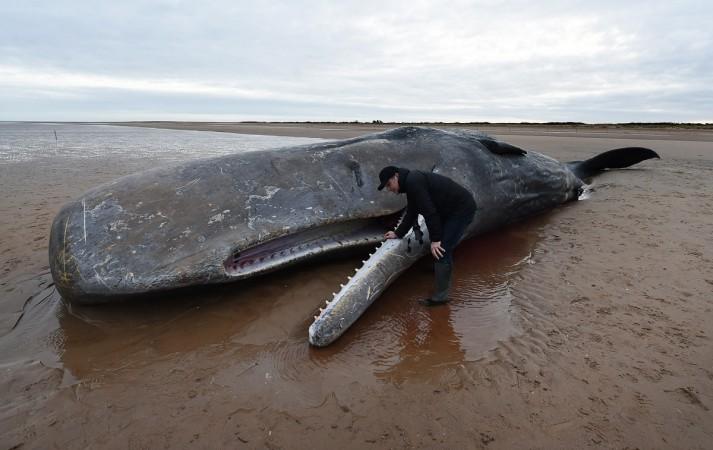 A 20-feet-long gigantic, foul smelling sea creature recently washed up on a beach in the Philippines. And, local residents say that it might be a sign of an impending disaster.
According to The Sun, the carcass of the giant sea creature, dubbed globster, was found on San Antonio beach on Friday, May 11. And, next day, on May 12, a video emerged on YouTube, which showed two men using ropes to pull the monster out of the water.
Local residents have called the incident a bad omen.
''An earthquake is heading for Oriental Mindoro. The big globster is a sign of something bad coming. Please pray for us," resident Tam Maling said.
Another resident Vincent Dela Pena Badillo told The Sun, "It has been told that when creatures from the deepest parts of the ocean start appearing, something bad will happen."
Imelda Mariz, who took two of her children to the beach to see the unidentified monster, said that the children were scared to see the creature.
''I couldn't believe what it was, I've never seen anything like it. In God's name, I was shocked. The children were scared it was a dead monster. Nobody knows what it is yet," Mariz said.
Watch the video here.
Officials from the Bureau of Fisheries and Aquatic Resources in the Mimapora region have collected samples of the greyish white creature.
Fishery Law Enforcement Officer Vox Krusada told The Sun: "For now we can say its a whale, but the exact species is still unknown. The tissue samples are now sent to our lab for DNA analysis. The local government of Gloria will now bury the carcass."
"And damn it smells awful. it smells like something from another planet. I really experienced the full power of its smell because I'm the one who took the tissue samples. I almost puked. I felt better after taking a bath but the stench still lingers in my nose," Krusada further added.
IB Times India has not verified the authenticity of the report.
Similarly, the carcass of a strange creature was found at Wolf Island National Wildlife Refuge in Golden Isles, Georgia in March this year. A lot of people compared the creature with Loch Ness Monster.