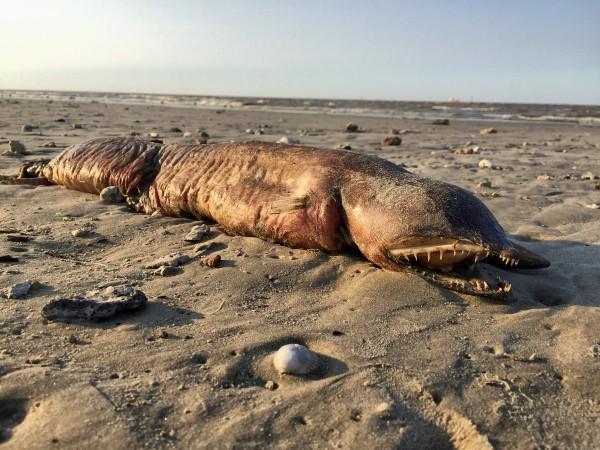 Marine experts have been left puzzled after a boater spotted the carcass of a "Loch Ness-type thing" on a southeast Georgia beach.
Jeff Warren was with his son when he spotted the carcass of the strange sea creature at Wolf Island National Wildlife Refuge in Golden Isles, Georgia, Friday.
At first sight, he thought it was the carcass of a seal. But after close observation, he found an uncanny resemblance to Loch Ness Monster. He described it as looking more like a "Loch Ness-type thing," according to Action News Jax,
While birds were devouring on the carcass, Warren managed to capture pictures and get a video of the dead animal. Marine experts now believe that the mysterious sea creature, which reportedly has an elongated neck and small head, maybe an animal from prehistoric times.
Watch the video here.
According to First Coast News, upon discovering the dead animal, Warren reached out to nearby Skipper's Fish House in a hope for identification. There, he was told that a legend called Alty or Altahama, who is equivalent to Nessie, roams around in the sea.
The US Fish and Wildlife Service gave a different explanation when Action News Jax contacted them for more information about the animal.
Director Dan Ashe explained a procedure of decomposition of sea animals that makes the dead animal resemble Plesiosaur — a long-necked marine dinosaur. The prehistoric sea creature first existed more than 200 million years ago.
But the organization still could not figure out the marine animal Warren found on the Georgian beach.
Last year, another mysterious sea creature was spotted by Preeti Desai, a social media manager at National Audubon Society, after Hurricane Harvey hit Texas.
Taking to Twitter, Desai had shared a couple of pictures of the strange animal, asking: "Okay, biology twitter, what the heck is this??"
Upon her query, eel expert Kenneth Tighe, a biologist with the Smithsonian National Museum of Natural History, told Earth Touch News that the creature could be a fangtooth snake-eel or a garden or conger eel.
Desai went to the beach to assess the damage from hurricane Harvey. She never expected that she would discover something like this on a beach.
She told BBC: "It was completely unexpected, it's not something that you'd typically see on a beach. I thought it could be something from the deep sea that might have washed on to shore."