A couple's peaceful walk along a Queensland beach in northern Australia ended with them stumbling upon a monster sized dead fish – about six feet long and weighing 330 pounds.
The married couple – John and Riley Lindholm – were looking for beachside properties on Moore Park Beach, Bundaberg, when they came across the 'big lump'.
The couple filmed the mysterious creature and posted the photos on social media to inquire about its origin or identity.
John, who is a chartered skipper and has spent his entire life around fish, claimed that he had never seen anything so big – neither was he aware of the species it belonged to.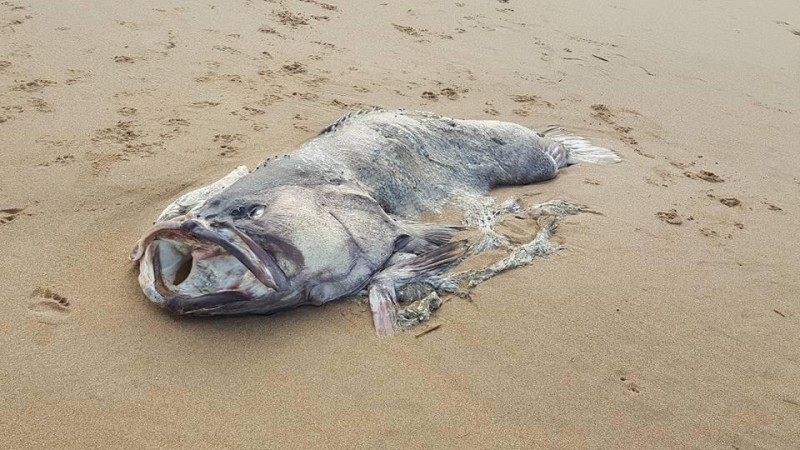 "I've seen a lot of fish, and a lot of big fish, but I've never seen anything like it," John told ABC News. "I thought it might have been a grouper, but it just doesn't seem to fit with what other people up here have told me."
What's even more shocking is the state of the creature's carcass: even after washing up on the shore, it was complete and intact. John and Riley are seen walking around the creature as they capture the footage, trying to cover every angle.
Following that, they took to the beach's community Facebook group with their queries, where some people seemed to believe it's a cod while others suggested it's a fish called tripletail.
Yet things got even more bizarre when the couple returned the next day to the spot of their discovery and found that the mysterious creature had vanished.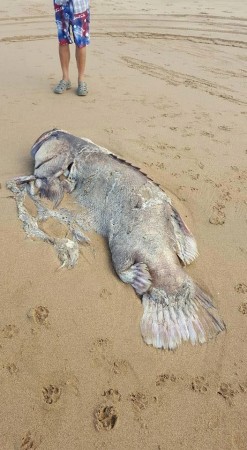 In his interview with ABC, John further added: "I've seen a lot of fish and its pectoral fin right down near the tail looked a bit odd, sort of looked like it had a joint there, and if it had the same on the other side that could be exactly what it is."
A spokesperson for the Queensland Fisheries and Boating Patrol said that extensive consultation had led the authorities to conclude that the fish was a groper. "How the fish came to be washed up on the beach and its cause of death also could not be determined," they said.
But the lack of any signs of injury drove John to believe that the creature had died of natural causes.
Speaking to Australia's News Mail, he added: "What's surprising is the fact that it is here, because there's not a lot of reef close to this beach."