A couple of mysterious Samsung devices have recently been spotted on Geekbench with similar specifications and different model numbers. The latest Geekbench listing reveals a Samsung device with model number SM-G965-- powered by a 1.78GHz quad-core Qualcomm Snapdragon processor with SDM845 chipset.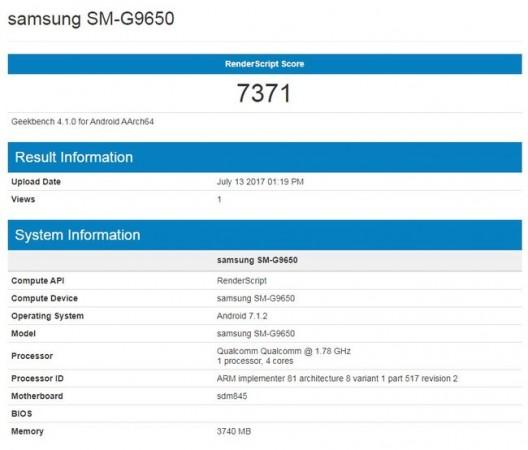 According to the listing, the handset with model number SM-G9650 is touted to be the next-gen Galaxy S flagship, which is widely-rumoured to feature the Snapdragon 845 chipset. Consequently, it is almost certain that we are looking at the product listing of Galaxy S9.
Prolific tipster Roland Quandt had earlier tweeted another Geekbench listing, suggesting a lighter version of Galaxy S8 aka 'Galaxy S8 Lite' bearing model number SM-G9600 is already in the works. The listing has confirmed the following specifications for the handset: Android 7.1.2 Nougat, 4GB RAM and 1.77GHz quad-core Qualcomm Snapdragon processor based on SDM840 chipset.
Given the mid-range clock speed of the listed processor, it is ascertained that it could be a new variant of the older Snapdragon 600 series chip. Furthermore, the model number SM-G9600 strengthens the claim that it is the next-gen Galaxy S flagship phone as Galaxy S8 uses the SM-G95XX number while Galaxy S7 and Note 7 used the SM-G93XX.
It must be noted that Samsung skipped the SM-G94XX series owing to some superstitious beliefs surrounding the number 4, akin to what OnePlus did with the naming convention of OnePlus 5 smartphone after skipping OnePlus 4 moniker from the line-up.
A closer look at the two Geekbench listings confirms that Samsung could simultaneously be working on the Galaxy S8 Lite and Galaxy S9 or testing multiple variants of the same handset with identical specs, but different model numbers.
Do you think Samsung will release Galaxy S8 Lite or Galaxy S9 or both? Share your thoughts in the comments section below.