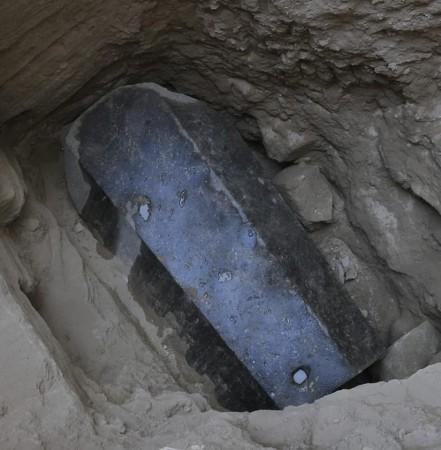 Egyptian archaeologists have finally managed to open the gigantic black granite sarcophagus, which was discovered from a long concealed tomb in Alexandria, Egypt, earlier this month. The 6.5-feet-tall coffin was buried about 16 feet beneath the ground.
After opening the 30-ton (27,000 kg) coffin, the experts have found three decomposed bodies that were lying in a pool of sewage water inside the stone coffin. The authorities believe that the water has increased the decomposition rate in the bodies.
Mostafa Waziri, secretary general of the Supreme Council of Antiquities of Egypt, has confirmed the news of opening the mysterious sarcophagus. "The sarcophagus has been opened, but we have not been hit by a curse," Waziri said.
Previously, the archaeologists had suggested that the excavation site dates back to the Ptolemic era between 305 and 30 BCE. However, Egypt Today reported that none of the three mummies belong to a Ptolemaic or Roman royal family. According to the report, the experts have concluded this based on the facts that there is no inscription or cartouche displaying the occupant's names on the coffin.
The report added that the lack of silver or gold metallic masks, statues, amulets or inscriptions indicated that those who were buried were not of high status.
In a press statement, Waziri said that one of the skulls was apparently hit by a sharp instrument as it showed signs of multiple fractures. He also suggested that the skull belonged to a soldier.
According to him, the other two skulls, which are intact, belonged to two men. He expects that further studies can surely reveal the details about the age and appearances of the skulls.
"Preliminary examination suggests the skeletons belong to three army officers, one of them his skull shows an injury of an arrow," Shaban Abd Monem, a specialist in mummies at the Ministry of Antiquities, told Luxor Times.
Meanwhile, the coffin will be moved to a military museum and the three mummies will be transferred to the Alexandria National Museum.
The archaeologists also unearthed a huge alabaster head of a man along with the coffin. But, the features of the alabaster were unrecognisable as they had eroded into obscurity.
During the excavation, the experts told The Daily Telegraph that the tomb must have belonged to a nobleman as opposed to a king. Many people also said that it must have been the tomb of some important person, who lived between 323BC and 30BC, as granite was not used for any average person in those days.
But, the archaeologists were sure that the 2,000-year-old gigantic sarcophagus was undisturbed, unlike other tombs that were opened and looted.
Several historians believe that someday the remains of King Alexander may be discovered on top of the city. But, the tomb was quite small for a king like Alexander, who established the city. Then, to whom does this tomb belong to? Well, this question remains unanswered untill further studies.
ALSO READ: Britney Spears suffers wardrobe malfunction on stage, continues to perform despite nip slip
ALSO READ: GoT star Natalie Dormer says on-screen sex should be 'dirty' to reflect real life