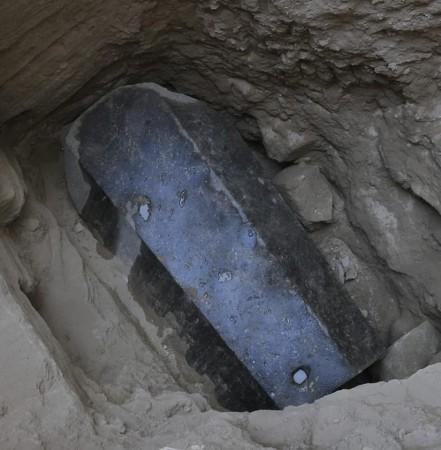 Egyptian archeologists have discovered a gigantic black granite sarcophagus from a long concealed tomb in Alexandria, Egypt and are planning to open the 6-feet-tall coffin to find out what lies inside it. Experts claim that this coffin, which was buried about 16 feet in the ground, is the largest ever found in the Mediterranean port city.
In an official Facebook post, the Egyptian Ministry of Antiquities announced that the enormous sarcophagus was unearthed during a routine archaeological inspection at a construction site on July 1. Later, the state-run newspaper of Egypt named Al-Ahram reported the news.
The archaeologists have also found a huge alabaster head of a man in the same place. But, the features of the alabaster are beyond recognition. According to the local media, a tow truck will be needed to lift and transfer the big sarcophagus to a nearby archaeological site where it can be opened and examined properly.
Dr. Ayman Ashmawy from the Egypt Ministry of Antiquities said on the Facebook post: "The layer of mortar between the lid and the body of the sarcophagus indicating that it had not been opened since it was closed in antiquity."
After seeing the image of the alabaster, an user commented on the post saying: "The defaced Alabaster head indicates someone important who did something not liked by society, is buried here."
This latest discovery is undoubtedly quite fascinating for the experts as a number of ancient Egyptian tombs were opened over the centuries, but the archaeologists have failed to discover anything as intact at the resting place as this one is.
According to the archaeologists, the excavation site dates back to the Ptolemic era between 305 and 30 BCE. But, they are sure that this 2,000-year-old gigantic sarcophagus was undisturbed, unlike other tombs that were opened and looted.
However, there are speculations that it must have been the tomb of some important person as granite was not used for any average person in those days.
ALSO READ: Sacred Games leaked online: Here's how you can avoid piracy, watch it on Netflix for free