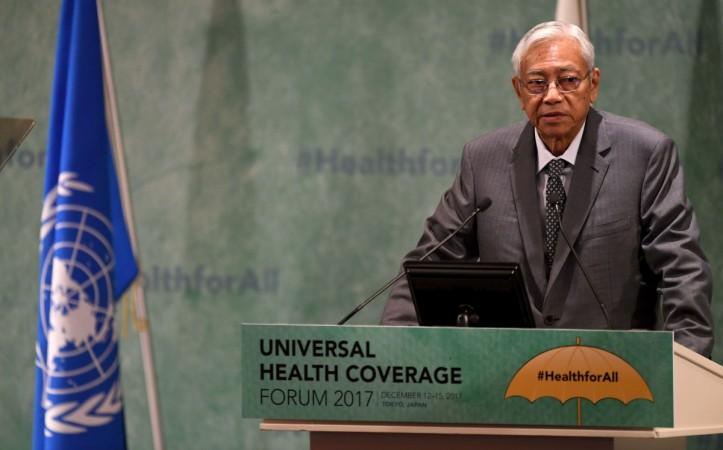 Myanmar president U Htin Kyaw has resigned with immediate effect, the official Presidential Office Facebook page announced Wednesday. Vice-president U Myint Swe will be the acting president until the Parliament selects a replacement.
The Facebook post said Kyaw, who was in office for less than two years, resigned because he wanted to "take a rest." The post also said that they will select a replacement within seven working days.
According to The Myanmar Times, Myint has resigned from his position to temporary take the top position. During the Pyithu Hluttaw session, deputy speaker T Khun Myat announced about Myint's resignation.
"In accordance with section 73(b) of the Constitution of the Republic of the Union of Myanmar, election of a new President within seven working days to fill the vacant post will be conducted," the Office of the President said in a statement.
In 2016, Kyaw was elected as president after landmark election in November 2015. The National League for Democracy (NLD) came to power after a landslide win.
Kyaw is a close friend of the country's top leader Aung San Suu Kyi. After he was elected as the president, Suu Kyi became the de facto leader. Suu Kyi is constitutionally banned from taking the top job because has two children from late British husband.
The chapter 3, no 59(f) of the constitution states that the president of vice-president shall not "he himself, one of the parents, the spouse, one of the legitimate children or their spouses ... owe allegiance to a foreign power, not be subject of a foreign power or citizen of a foreign country," nor shall they "be persons entitled to enjoy the rights and privileges of a subject of a foreign government or citizen of a foreign country."