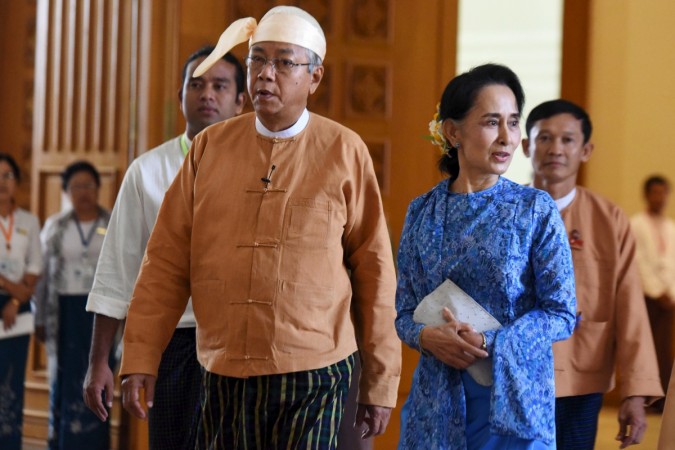 Nobel Peace Prize winner Aung San Suu Kyi was appointed as Myanmar's foreign minister Wednesday, while her aide Htin Kyaw was sworn in as the country's first democratically-elected president in over five decades. Kyaw was selected to lead the government by Suu Kyi's National League for Democracy party as she is constitutionally barred from becoming Myanmar's president.
Kyaw vowed to work on national reconciliation and peace in the country and said the government will also push a democratic constitution.
"Our new government will implement national reconciliation, peace in the country, emergence of a constitution that will pave the way to a democratic union, and enhance the living standard of the people," the new Myanmar president said during his televised speech Wednesday, according to Reuters.
Kyaw is expected to be a proxy figure as the leader of the government since Suu Kyi had said earlier she would be "above the President." READ: Who is Htin Kyaw, new Myanmar president?
Apart from foreign affairs, Suu Kyi will also head the ministry of president's office, ministry of education and ministry of electricity and energy. She was barred from taking the top post in the government by a military-drafted constitution as she was married to a British national and her children are not Myanmar citizens.
The swearing-in ceremony was an emotional moment for Suu Kyi's party members, who came to power with a thumping majority in the November 2015 elections, with reports stating many teared up during the event.
Myanmar army chief Min Aung Hlaing reportedly attended the swearing-in of Suu Kyi's aides, even as the new government is expected to limit the military's powerful role in the country's politics.
However, with a quarter of the parliamentary seats under its control — enough to veto constitutional changes — as well as key ministries such as defence, the Myanmar military is capable of thwarting the new government's reforms.