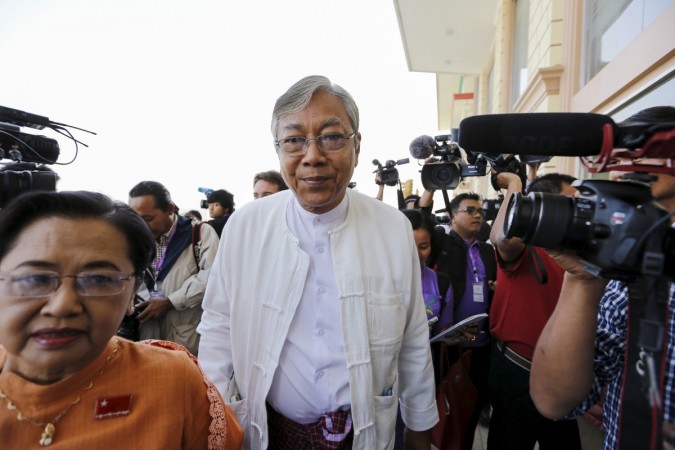 Myanmar got its first democratically elected president in over 50 years Tuesday, as the National League for Democracy's candidate Htin Kyaw was chosen by the Parliament to lead the country. Kyaw had studied with Nobel Peace Prize winner Aung San Suu Kyi, and is said to be her confidant.
Kyaw, 69, was nominated from the lower house of Parliament, while another Suu Kyi loyalist, Henry Van Hti Yu, was nominated from the upper house last week.
The third nominee in the presidential vote Tuesday was former general U Myint Swe, backed by the powerful military. Suu Kyi was legally barred from being nominated to become Myanmar's president as she was married to a British man and her children are not Myanmar citizens.
While it was reported last week Kyaw used to be Suu Kyi's driver, local media questioned the claims, with a spokesperson of Suu Kyi's National League for Democracy dismissing the reports, according to the Myanmar Times. He also questioned reports of Kyaw's "graduate degree from Oxford."
Kyaw is the son of writer U Min Thu Wun, and director at the Daw Khin Kyi Foundation, a charitable foundation named after Aung San Suu Kyi's mother. A year younger than Suu Kyi, Kyaw had attended school with her in Dagon. He is married to the daughter of U Lwin, a founding member of the NLD party.
Kyaw entered the Myanmar administration in 1975, joining the Ministry of Industry and then moving to the Ministry of Foreign Affairs in 1980, the local newspaper said, citing a resume uploaded by a party official.
But while Kyaw will take charge of the top post April 1, he is likely to be a proxy figure, as Suu Kyi has said famously she will be "above" the president. And that is exactly what supporters of the party, who voted the NLD in with a thumping majority in last November's historic elections, reportedly want.