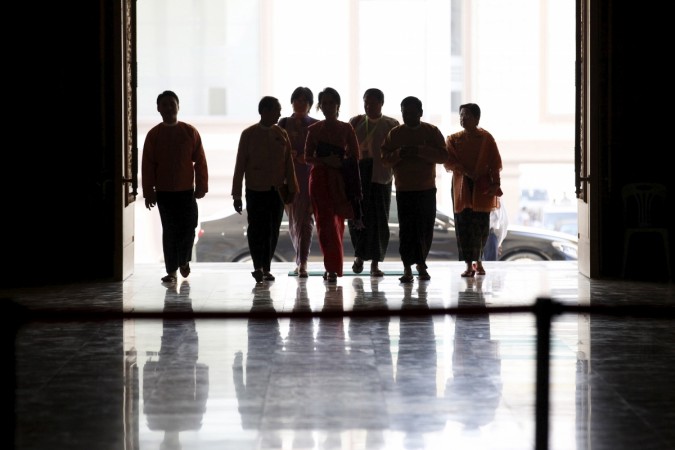 Aung San Suu Kyi's National League for Democracy (NLD) party, which came to power with a thumping majority in Myanmar in last November's elections, nominated her former driver Htin Kyaw for Myanmar president Thursday. Suu Kyi herself is legally barred from taking up the country's highest post.
"I would like to propose U Htin Kyaw, from the NLD," said Khin San Hlaing, a lower house MP, said, according to AFP. The military has reportedly nominated current Vice President Dr Sai Mauk Kham for presidency.
Kyaw, 69, had studied with Suu Kyi and is said to be her confidante. He was nominated from the lower house of Parliament, while another loyalist Henry Van Hti Yu was nominated from the upper house. Kyaw is tipped to be the the first democratically-elected president of Myanmar in five decades.
Last month, reports suggested that Suu Kyi's party was in talks with Myanmar's powerful military to scrap a constitutional hurdle that was barring her from becoming the next president. The constitution, drafted by the military itself, bars the Nobel Peace Prize winner from becoming president as she was married to a British man and her children are not Myanmar citizens.
However, Suu Kyi had announced after the successful elections that she will be "above" the president.
The military also put forward one of its nominees for presidency. While the names were revealed Thursday, voting will be done later, and the names of the new president and two vice presidents are expected to be announced March 17. According to the Myanmar Times, two former military generals are said to be the favourites to be chosen for the post of vice-president.
Reports of the NLD party and the military working out a deal had emerged in recent months, with some suggesting the possibility of the military suspending the section 59(f) of the constitution in return for picking chief ministers.
Suspension of the constitutional provision will require more than 75 percent votes in parliament, but while Suu Kyi's party had won 80 percent of electable seats in the elections, the military still constitutionally reserves 25 percent of the seats in parliament.
However, it is not clear how the talks culminated.